Fruit Of The Loom: A Killing In The Caymans?
Why Bill Farley wants to move the apparel maker there
De'Ann Weimer
Sometime before July, Fruit of the Loom Inc. will host what's likely to be its last shareholder meeting on U.S. soil. The 72-year-old T-shirt maker isn't disappearing into the mergers-and-acquisition boom. Nor is it sinking into bankruptcy, as so many of the leveraged buyouts of the 1980s did. Instead, in an unusual move, William F. Farley, Fruit's chief executive and largest shareholder, is asking stockholders to move the company's domicile to the Cayman Islands. It isn't Shangri-la, but the Caribbean resort may be the last place the troubled underwear giant can forge a prosperous future.
Investors seem to agree. Since the transfer was announced, Fruit's shares have risen to 37 from 26. Current betting is the deal will pass handily. But shareholders, who've watched the stock tread water since 1992, don't appear to be counting on a turnaround. Instead, many figure the move increases the chances that Fruit will be snapped up by another apparel maker. Donald Yacktman, whose asset management firm holds 2.9 million shares, says that's reason enough to vote for the switch. "That makes the move attractive," he says.
"ERRORS." Indeed, the move appears to represent an extreme effort by Farley, one of the 1980s' most prominent leveraged buyout specialists, to boost Fruit's long-struggling shares. A series of management missteps in recent years have left the company in poor shape and investors irate. "Most CEOs who accumulate the number of errors he has are not in the position he's in now," says Yacktman. But with the Caymans deal, Farley has promised to get the company back on firmer financial footing--though a close look shows Farley personally may be the biggest winner.
A flamboyant, charismatic dealmaker, Farley first rose to prominence in the 1980s when he built a mini-empire of apparel companies with $4.5 billion in debt, most of it junk-bond financing from Drexel Burnham Lambert Inc. In his heyday, he controlled both Fruit of the Loom and West Point-Pepperell Inc. A fitness nut who starts business meetings with aerobics, Farley once appeared in Fruit TV ads doing sit-ups in a tank top. He even briefly considered running for President. But by 1991, with his empire collapsing, he barely staved off liquidation.
Farley managed to hang on to Fruit, but in recent years, the company and its shareholders--unlike Farley himself--have suffered mightily. Farley soon acquired a string of smaller apparel firms, and in the process, Fruit's debt grew to $1.2 billion. Farley aimed to more than double the company's revenues, to $5 billion, but the highly leveraged deals never paid off. Some lost money, and Farley now concedes that even the best of them failed to provide the expected growth. Their legacy, however, remains: Debt stands at a high 50% of capital, and Fruit faces a lofty $100 million in average annual interest payments. Yet its operating cash flow last year was a negative $94.9 million.
Fruit meanwhile has been plagued by operating problems. A mismanaged attempt to move its sewing operations overseas cost at least $60 million in operating profits last year. Poor forecasting sent inventories soaring 37% in 1997, while Wal-Mart Stores Inc. and Kmart Corp. have complained about poor service.
Worse still, the one-time market leader was caught with its pants down as designers like Calvin Klein and Tommy Hilfiger have turned underwear into a high-fashion, highly profitable niche. The result: While rival Hanes, which licenses production for Ralph Lauren and others, has taken over the top spot, Fruit's market share has declined. And despite two restructurings--Fruit has taken $800 million in special charges and laid off 16,355 U.S. workers out of a total 29,112 since 1994--operating results tumbled to a $283 million loss in 1997.
BUYOUT? Even Farley concedes a Caymans move is unlikely to do much to solve those operating problems. To tackle them, he's brought in a new slate of experienced managers over the past eight months. And if the savings from moving manufacturing overseas finally kick in over the next year, Farley says Fruit will trim at least $200 million in annual costs.
So why go to the trouble of moving the company to the Caymans? Farley argues that the main reason for the deal is to trim the corporate tax rate from 28% to 11%. He estimates the lower rate will ultimately save around $100 million a year, freeing cash to help pay down the debt. "The concept itself is terrific," Farley says. "Brilliant."
But a review of Fruit's Securities & Exchange Commission filings and interviews with more than a dozen former and current high-level executives show that the Caymans proposal offers much more than a simple corporate tax break. It also provides Farley a hefty personal tax break--one which other investors won't share--even as it increases the income he receives from Fruit.
Though Farley holds just 7 million shares--10% of the company--he controls a 30% voting stake today. That's because some 82% of Farley's holdings are class B shares worth five votes each. According to the registration Fruit filed with the SEC about the Caymans move, if Farley were to swap his Fruit stake on the open market for a comparable stake in the company once it is based in the Cayman Islands, he would face a large capital-gains bill from Uncle Sam.
"A substantial amount of [Farley's B shares] would have to be sold...to pay the tax," the document continues.
Of course, that is exactly the swap some other shareholders are being asked to make, and under Internal Revenue Service rules they will have to pay capital-gains taxes on the transaction. But since such a trade could jeopardize Farley's control over Fruit, the filing says the Cayman move is structured so that Farley can avoid paying taxes and maintain his voting rights.
Moreover, Farley will be given control over how his new stake is structured. His current B shares will become preferred shares in a Fruit subsidiary called FTL-Delaware. These preferred shares, which are only being offered to Farley, will pay dividends--the first Fruit shares to offer dividends since the company went public in 1987. The exchange rate and the dividend rate, according to the filing, will be set by Farley 20 days before the shareholder vote--within guidelines fixed by the board. Fruit estimates those dividends will reach at least $5 million a year, but shareholders say they could more than double that.
That's not all. Farley is also being offered the exclusive right to buy B shares in the new Cayman company at a price equal to the publicly traded A shares. These new B shares will again have extra voting rights, preserving Farley's voting power. And though he will pay no taxes on the exchange of shares, the company is expected to pay around $10 million in corporate taxes for the move. The IRS and the SEC are looking into whether the deal is better for Farley than for other shareholders. "It certainly benefits Mr. Farley," says one former Treasury attorney who specializes in offshore corporations.
Nor do the benefits end there. If Fruit is eventually acquired, Farley's tax rate could be far lower than if the company remained as it is today--leading several investors and former executives to conclude that Farley's real aim in moving the company is to find the most advantageous way of cashing out his stake. All agree that Fruit of the Loom will be a more attractive acquisition target once located in the Caymans, thanks to the lower tax obligations. Added to the projected gains from trimming manufacturing costs, the company could generate cash flow of $300 million as early as this year.
Farley says he isn't actively looking to sell the company. But numbers like those have convinced Wall Street a deal is likely. Analyst Dennis S. Rosenberg of Credit Suisse First Boston says two good years of solid performance and free cash flow of at least $300 million could set Fruit up nicely for a sale. Rumored suitors include Warnaco Group Inc., which supplies Fruit with bras and other intimate apparel, and VF, the maker of Vanity Fair sleepwear and activewear. Both declined to comment.
In setting up the Caymans move, Fruit's board of directors has also helped Farley pay off some private debts. Until last November, Leon D. Black, the former Drexel mergers-and-acquisitions specialist, held the debt of privately owned Farley Inc., the entity through which Farley owns 3.1 million shares of class B Fruit stock. Those shares backed up Black's debt. But last September, Farley says the board became worried that questions might arise over control of the voting rights to those shares once the company moved to the Cayman Islands. So two months later, Farley bought Black out. Where did he get the money? According to Fruit's 1997 10-K, from a $26 million loan guaranteed by Fruit.
It's not the first time the company has guaranteed a Farley loan: A similar 1994 pact guaranteeing a $12 million line of credit was widely decried as self-dealing by institutional investors. But Farley dismisses his critics. "The board approached me and suggested that it might be appropriate to buy out Leon," says Farley. Adds Director A. Lorne Weil: "If the board didn't consider it appropriate, we wouldn't have done it."
LOADED PROFITS. The loan guarantee is part of a long, very public debate over Farley's gains from Fruit. Investors have been particularly scathing in their criticism of his 1996 compensation. Thanks to a big rise in operating earnings in 1996, he received $15 million in salary, bonus, and options. But then results for the first two quarters of the next year tanked. The culprit: Fruit had front-loaded revenues and profits in late 1996 for goods not scheduled for delivery until the following spring. Orders then tumbled in the spring of 1997, contributing to losses for the year.
Though allowed under accounting rules, the events caused an uproar among investors. Several large shareholders say Fruit told them the publicity over Farley's pay prompted creditors, including NationsBank Corp., to pressure him to pay down his large personal debt, as well as that of other companies he owned. NationsBank refused requests for confirmation. Farley denies being pressured, but several major investors say executives told them that's what led to Farley's sale of 900,000 Fruit shares in May and June last year. Farley pocketed $30.6 million--and then riled investors again when, four weeks later, Fruit announced a 51% slide in second-quarter earnings.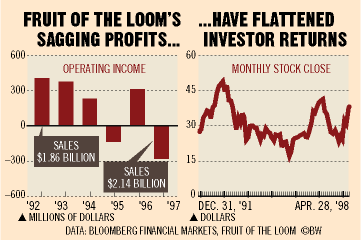 That shareholders will put that history aside and follow Farley abroad surprises some. "If you saw Men in Black, they had that little device that flashed a light and the person's memory was erased," comments a consultant for a rival apparel maker. "It's like Farley has the same effect on Wall Street." But investors say they haven't forgotten. They simply see the Caymans deal--and the possibility of a lucrative sale--as the best exit strategy for a stock that has gone nowhere. "The financial community in America is forward-looking," says Farley. "Not forgiving necessarily, but forward-looking." Southward-looking, at any rate.