Crowded In Toon Town
Everybody's going into kids' TV--and revenues will show it
by
The launch was pure Disney. Followed closely by a marching band, Mickey, Minnie, and Goofy traipsed through a Burbank (Calif.) airplane hangar crammed with kids and parents. The Apr. 18 hoopla was to celebrate the start of the Toon Disney cable-TV network. At the stroke of noon, Mickey, dressed for his role in The Sorcerer's Apprentice, sent a stream of electronic sparks into the sky.
The allusion to the famous Fantasia sequence--in which Mickey unwittingly creates hundreds of brooms--may turn out to be a bit too apt. The number of cable channels chasing kid viewers is multiplying, while TV networks are also working harder to attract little eyeballs. By this summer, both Walt Disney Co. and Fox will expand offerings to kids. On Apr. 28, Nickelodeon and Children's Television Workshop unveiled plans for a new educational channel for kids called NOGGIN, and the four-year-old UPN network will begin airing 12 hours a week of Disney-produced cartoons.
That adds up to a lot of big players chasing the 39 million viewers aged 2 to 11. And it's changing the dynamics of the $994 million kids' TV market. Ad rates, which posted double-digit increases for years, are likely to fall as advertisers start buying time for the season beginning in August. "There are a lot of players jumping in this pool, and a lot of water is going to splash out," says Jon Mandel, media buyer for such advertisers as Kraft, Mars, and Hasbro. "Rates are going to come down."
Some of that tough talk is doubtless a negotiating posture: For months, advertisers and broadcasters have been locked in talks over the "up-front" market, in which an estimated 60% of ads for the coming season are sold. But the gloomy predictions do suggest a new reality for kids' TV.
PEE WEE RERUNS. Consider the Fox Family Channel, which will launch this August with 11 of its 24 hours dedicated to such children's fare as Pee Wee's Playhouse reruns. Advertisers are saying they anticipate audiences of roughly 200,000 kids, about half what Fox has projected, in part because the market just isn't growing. "We're counting on taking share from other people," says Rick Sirvaitis, president of the Fox channel's ad sales unit. The big targets: top-rated Nickelodeon and the Cartoon Network.
In fact, even Nickelodeon is feeling the heat. It currently gets about a third of all spending on advertising aimed at kids, and it snares 57% of the kids' audience with such shows as Rugrats, The Secret World of Alex Mack, and Kablam! But to stay ahead, it's plowing $350 million into a new animation studio in Burbank and more original programming. "The bar has been raised awfully high," says Nickelodeon President Herb Scannell.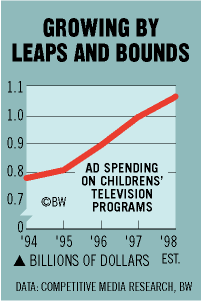 So why are Disney, Fox, and UPN trying to vault in? They are reserving shelf space for their bulging libraries of cartoons in anticipation of the digital-TV era, which will increase the number of channels and add to the choices kids have. "The bigger companies have programming that they intend to protect," says Charles H. Rivkin, president of Jim Henson Co., which is talking to cable operators about launching a channel with old Muppet fare.
But the crush of new programming may be driving ad rates down. Even now, high audience ratings don't always lead to high revenue. Take the Cartoon Network. The Flintstones, Batman, and Scooby Doo are making its ratings zoom. But that doesn't impress ad buyer Mandel. "These days, we have plenty of other buys we can make," he says. That could take a lot of the fun out of kid TV.
Before it's here, it's on the Bloomberg Terminal.
LEARN MORE