Argentina: This Party's Not Over Yet
by
Argentina's industrial sector enjoyed another strong quarter. But global bankers are trying to pressure the government of President Carlos S. Menem into slowing the economy.
Industrial production was up 9.7% in March from a year before, led by gains in autos and construction materials. The building sector is being pumped up by public spending, especially Menem's ambitious road program. The rise in industrial activity is increasing employment in a country where the jobless rate stood at a high of 13.7% at the end of 1997. Unemployment is sure to be a key issue of the 1999 Presidential election. For now, solid industrial activity is offsetting the drags from falling oil prices and agricultural damage from flooding. Private economists forecast real gross domestic product growth to slow to 4% to 6% in 1998, from 1997's robust 8.4%.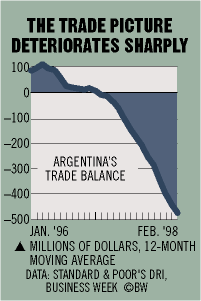 The strong economy, coupled with the slowdown in Brazil, Argentina's main trading partner, is worsening the trade deficit. In February, the gap widened to $544 million, triple its level in February, 1997. Exports fell 9% from a year ago as energy shipments--13% of all exports--plunged 23%. But imports rose 11%, led by a 34% surge in capital goods. The International Monetary Fund has warned that the deficit could total as much as $8 billion this year, from $2.3 billion in 1997. The IMF has said the current account deficit could hit 4.75% of GDP, much higher than the target of 3.8% set by the IMF as part of its $2.8 billion loan agreement with Argentina.
The IMF also has recommended cutting some public spending, raising bank-reserve requirements, and changing some tax laws in order to hold down the government deficit. In addition, the IMF says the proposed labor reforms are too weak.
Menem, however, isn't keen on slowing the economy this close to an election. And even though the constitution must still be altered to pave the way for his reelection bid, the upcoming vote probably means that politics, not fiscal prudence, will guide economic policy in the coming year.
Before it's here, it's on the Bloomberg Terminal.
LEARN MORE