Suddenly, Microsoft Is An Ugly American In Japan
Windows swamps a Japanese rival, sparking an angry backlash
Irene M. Kunii
The last hope. That's how many Japanese have viewed Justsystem Corp., the PC software developer based in Tokushima. Microsoft Japan has swept away all local operating systems and their supporting software with its Japanese-language version of Windows. But in applications, Justsystem has held out, thanks to a superior word-processing product, Ichitaro. Just six months ago, as it was going public on the over-the-counter market in Tokyo, Justsystem confidently predicted an operating profit of $23 million and an annual sales gain of 27%, to $300 million, for its fiscal 1997.
It was David vs. Goliath--only now, the giant is winning. In the past 12 months, Justsystem has seen its overall market share for Ichitaro tumble from 74% to 40%, with the sharpest drop coming since February. In January, the company had to revise its earnings forecast to an expected loss of $33 million on sales of $185 million in 1997. Justsystem's shares have slid from the initial offering price of 20 to under 5.
The cause of this reversal: Microsoft's years of dogged effort, and a new Japanese-language version of Microsoft Word, released in March, that irons out the kinks of earlier versions. Word 98 nosed out Ichitaro for the top spot in the category. "Justsystem used to have the superior product, but now we've got the edge," says Hirohisa Ohura, a managing director of Microsoft Japan.
So much of an edge, in fact, that some Japanese are getting very upset at Microsoft, which 12 years after setting up its subsidiary in Japan has about $1.1 billion in local sales (chart). "Microsoft is seen as a foreign company with a different culture and language coming in and dominating us," says Kousuke Aoki, director of think tank Multimedia Research Institute. Windows has been popular, but the threat to Ichitaro has hit a nerve. Local papers are calling for steps to save Justsystem.
The government has taken notice, too. In January, as Justsystem's troubles began to surface, the Japanese Fair Trade Commission raided Microsoft Japan's offices. The FTC suspects that long before Word 98 debuted, Microsoft was forcing Japanese PC makers to install Word 95 by threatening to deny them the right to install its popular Excel spreadsheet program. "Because it controls the operating system market, Microsoft is using its influence to push Word and Excel," maintains Ryuhei Tsuyama, a Tokyo-based executive for Justsystem. The company says Ichitaro has traditionally outsold Microsoft 2 to 1 in stores. But in the preinstalled business, Word has pulled out in front.
Ohura shrugs off the allegations: "The FTC is now studying the matter, but we believe that we have conducted our business with the right philosophy." Analysts speculate that the probe's outcome may depend on what course U.S. regulators take with their own investigation of Microsoft. The FTC declines to comment.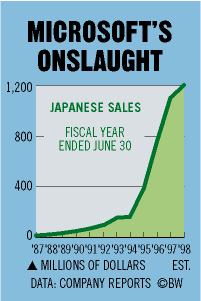 DOMINATION. If the Japanese investigation does not deal a serious blow to Microsoft, and if the media outcry dies down, Microsoft will soon own most of Japan's $4 billion packaged-applications software market. It already controls an estimated 40%, and a success in word processing was all it lacked. Microsoft is betting that Windows 98, which comes out in Japan this July, will trigger a recovery in the PC hardware market, which saw shipments decline 7% last year. "The way things are going, Microsoft will dominate the software market here for as long as there are desktop PCs," says Shinichiro Wakahara, a software industry analyst with Gartner Group Inc. Japan.
Meanwhile, Justsystem executives admit they spent too much on research and development in a vain attempt to match Microsoft. The company is cutting 600 jobs as part of a plan to save $60 million, but it's unclear if this will suffice. "Someone has to buy the company," says Mahendra Negi, an analyst at Merrill Lynch & Co. in Tokyo. "Justsystem has a whole line of products, good engineers, and a good name. But they were unfortunate in that they were in Microsoft's way." Japan is a closed market to many companies. To Microsoft, it's a colony.
Before it's here, it's on the Bloomberg Terminal.
LEARN MORE