Russia: Undeterred By A Trade Gap Drag
by
First, the bad news. After running trade surpluses since the breakup of the Soviet Union, Russia is likely to post its first current-account deficit in 1998. Plunging prices of its key exports--oil, gas, and metals--could shrink export revenues by over 10%, while imports are set to grow by 3%.
But don't draw any hasty parallels with Asian and Latin American countries where large current-account deficits contributed to recent economic meltdowns. Russia's gap will likely total less than 1% of gross domestic product and should not be hard to finance (chart). Indeed, even after last fall's market crash, the flow of foreign capital into Russia is increasing. What's more, rising imports are a signal that domestic demand is recovering. Real GDP is expected to grow by 1% to 2% in 1998.
The trick is not only to attract more foreign cash but also to ensure that it funds productive projects rather than real estate speculation or other hot-money deals, as happened in Thailand and Korea. Russia looks to be on the right track. Foreign direct investment, which usually goes into long-term projects, is expected to rise from $6 billion in 1997 to $7 billion this year.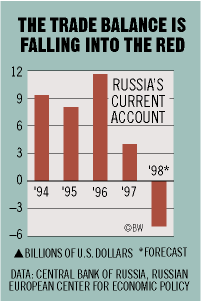 In addition, capital flight is reversing as wealthy Russians who once stashed their money offshore are now investing more of it at home. And the government is putting its notoriously messy fiscal house in better order, with revenue collections in the first quarter meeting the Finance Ministry's expenditure targets.
Even so, Russia, with a population of 150 million, attracts only slightly more foreign investment than much-smaller post-communist economies such as Hungary and Poland. That's partly because Russia has been reluctant to let foreigners take major roles in privatized companies and in banking. An oppressive tax regime, corruption, and political uncertainty also drive away investors. But despite these obstacles, Russia's investment climate looks attractive enough to offset the drag from this year's current-account deficit.
Before it's here, it's on the Bloomberg Terminal.
LEARN MORE