Paris' Boulevard De Triomphe
For a generation, the Avenue des Champs-Elysees in Paris was a raunchy street of video arcades, movie houses, and fast-food joints. Drug dealers, prostitutes, and beggars hustled passersby. Motorists fought for parking places. Bikers blocked sidewalks. By the end of the 1980s, upscale shoppers or strollers in search of a pleasant walk rarely made their way down the street. To Roland Pozzo di Borgo, president of the Champs-Elysees Committee, a merchant association, the Champs-Elysees had become the Cour des Miracles, a medieval hangout for thugs.
Now, the Champs-Elysees is undergoing an economic renaissance. In the early 1990s, the committee, alarmed by increasing crime and plummeting sales, pressured then-mayor Jacques Chirac to launch a cleanup. And in 1995, just before taking office as President of the Republic, Chirac inaugurated the new boulevard. But the Champs-Elysees (the name means Elysian Fields, or a mythological place where virtuous spirits rest) has not been returned to the trendy, glittery street where Jean Seberg hawked the New York Herald Tribune in the 1959 movie Breathless.
"IDEAL." While undeniably successful, today's Champs-Elysees is neither upscale nor especially Parisian. Instead, it's a shopping mall for tourists, featuring global brand names, such as the Gap, Swatch, Disney, Virgin. Landlords are taking advantage of the high-profile avenue to raise rents, and multinational brands are just about the only retailers that can afford them. Annual rents range from $280 per square foot on the shady side to $465 per square foot on the sunny side. That's four times the rent charged five years ago.
"I see international brands fighting for spots all the time these days," says Pozzo di Borgo, who also is president of Bistro Romain, a restaurant chain with an outlet on the Champs-Elysees. In fact, there are 20 takers for every storefront. Toyota Motor Corp. is paying $1.66 million annually for a 10,000-square-foot "window on Europe," says Eric Le Paire, manager of the showroom, which will open this summer. Gap spent $9.16 million last year for the right to take over the lease on its 13,000-square-feet space from the previous tenant. In addition, it pays annual rent of $750,000 for the site, which will be its state-of-the-art flagship store when it opens a year from now. The Champs-Elysees "is the ideal location in France," gushes Senior Vice-President for Marketing Michael McCadden. Nike, Adidas, and Marks & Spencer's are hunting for space. Planet Hollywood and McDonald's outlets already are drawing crowds faster than you can say "Royal Cheese"--French for a quarter-pounder with fromage.
With average annual sales on the Champs-Elysees estimated at $3,700 per square foot, the chains aren't grumbling about the rent. Stores here usually make more money for their brands than anywhere else in Europe. The Champs-Elysees has "the highest human concentration in Europe," says Jean-Jacques Bertrand, European partner of real estate agent Jones Lang Wootton. Some 700,000 people from all over the world stroll the Champs-Elysees on a Saturday or Sunday. "The architecture is beautiful, and there is so much of it," says Mary O'Connor of Valley Forge, Penn.
But if tourists like O'Connor crowd the new Champs-Elysees so tightly you can barely move, many Parisians avoid it. The commercial boom has robbed most of the avenue of its charm and Frenchness, and Parisians neither shop nor eat here.
YOUTH MOVEMENT. The Champs-Elysees has been a major thoroughfare in Paris since it was designed by Le Notre as a bucolic park in 1670. "It's one of the most beautiful perspectives in the world," says Pozzo di Borgo.
In the 18th century, the new French bourgeoisie strolled the avenue. Later, aristocracy frequented its palaces and cafes. Napoleon ordered up the Arc de Triomphe, the boulevard's most notable feature, in 1806, although it wasn't completed until 1836. Bastille Day parades still march the length of the avenue.
By the middle of the 20th century, the street had become a major shopping and business center. Then came video arcades and fast-food outlets that attracted suburban youths, who had direct access to the Champs-Elysees on a rapid train.
In 1991, the Champs-Elysees Committee convinced authorities that the street, one of Paris' top tourist attractions, was in need of a $42 million, two-year refurbishing. The government built underground garages and eliminated street parking. It enlarged and repaved sidewalks and planted trees. Specially designed benches and streetlights were added. Property owners and tenants spent an additional $4.2 million cleaning up facades and replacing outdoor furniture. Police surveillance was increased.
Despite opposition from trade unions, authorities pushed through legislation to allow businesses in popular Parisian tourist areas such as the Champs-Elysees to remain open 24 hours a day, seven days a week. Elsewhere, shops close by 7 p.m. and are shuttered on Sundays.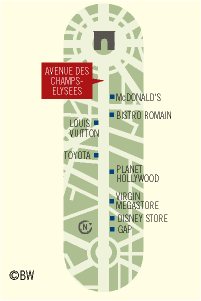 So once more, buyers are flocking to the Champs-Elysees. "It's a wonderful shopping experience...beautiful designs," says Margaret Brown, 80, an Irish tourist who's resting on a bench across from Louis Vuitton's flagship store. Inside the gleaming store, Jean-Marc Loubier, Vuitton's marketing director, says he is delighted with the reclaimed boulevard. "The Champs-Elysees is an extraordinary shop display to the world," he says. Vuitton, which operated on the Champs-Elysees from 1914 to 1954, reopened here just last February. Dozens of stores like it, and millions of shoppers, are bringing back excitement to the most beautiful avenue in the world.
Before it's here, it's on the Bloomberg Terminal.
LEARN MORE