Little Banks Are Sprouting In The Shadow Of Giants
There's a huge crop of new banks catering to the disenchanted
Wendy Zellner
Randy S. Plumlee was already fed up with his bank before it was acquired by an out-of-state institution. Even though the Plano (Tex.) businessman had a longtime friendship with a banker at Dallas-based Fidelity Bank, routine decisions were taking weeks or months. So when Fidelity was sold, Plumlee jumped ship to Resource Bank, an upstart in Dallas that opened in October. "I need somebody who knows me, knows how I operate a business, and can make decisions," says Plumlee. Just one day after he joined Resource, in April, he got a $25,000 loan for a new Ford truck for his commercial concrete and landscaping company. The bank's total decision-making time: 30 minutes. "We're off to a good start," says Plumlee.
As consolidation sweeps the banking industry, creating such behemoths as the proposed NationsBank-BankAmerica combo, thousands of customers like Plumlee are heading straight out the branch doors. Those customers and a thriving economy are spawning the biggest crop of bank startups in a decade. Federal Reserve Bank of Dallas researchers say that 182 new banks opened nationwide last year, not counting those buying existing banks. That's up 30% from 1996 and the most since 1988. The trend is national, but Georgia, California, Florida, and Texas--where the population is growing and bank competition is dwindling--are seeing the most action.
"FOR THE LONG HAUL." The shrinking of the industry itself--from nearly 12,500 banking companies in 1979 to 7,200 today--is actually fueling the boom. Bankers who have sold banks or lost jobs in mergers are striking out on their own. Backed by readily available capital, they're nabbing customers they say the big guys overlook: small-business owners, consumers over 50, and wealthy individuals who want pampering. "The giants do 80% of their business with 20% of their customers," says William F. Sinclair, president of the new $20 million Bank of Lakewood (Calif.), near Long Beach. Sinclair is narrowly targeting potential customers, faxing weekly promotions to some 355 small-to-midsize businesses within five miles of the bank and targeting direct mail at affluent households in the area.
Compared with the last wave of bank startups in the 1980s, this crop, say bankers and consultants, is better capitalized, better scrutinized by regulators, and less likely to be looking for a quick payoff. Senior economist Robert R. Moore and analyst Edward C. Skelton at the Dallas Fed found that the average new bank in 1997 had $65 million in assets by the end of the startup year and nearly $15 million in equity. That compares with $21 million in assets and $4 million in equity, adjusted for inflation, for the banks that were started in 1984. "These are banks that are in it for the long haul," says Chicago attorney Dennis R. Wendte, who advises new banks.
Peachtree Bank in Duluth, Ga., is typical. Opening in September, the bank is located in the fastest-growing county in the country. President Monty Watson, a veteran banker, raised Peachtree's capital of $8 million in 82 days. "It was the most fun I've ever had," says Watson.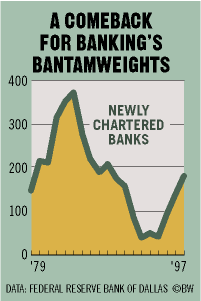 MORE POLARIZED. In the Midwest, David Keller, a former executive vice-president at Comerica Inc., opened Builders Bank in downtown Chicago last October with $5 million in capital. With $25 million in deposits now, the bank is six months ahead of projections, says Keller. "My customers don't care if they can use an ATM in Albuquerque," he says. "They want to know, `Can I get a loan to run my business? Will I talk to the same person twice?"'
Many banking experts predict an increasingly polarized industry, dominated by a few giants on one end and thousands of tiny banks at the other. But with banks in general thriving now, the bigger players say they aren't worried about upstarts. The market for small-business lending is growing faster than the number of new banks coming to the market, says Marilyn Dahl, a Norwest Bank vice-president. New banks "are doing well. So are we," she says. And as big banks get bigger, the newcomers should find even more room for growth.
Before it's here, it's on the Bloomberg Terminal.
LEARN MORE