Internet Engines That Could Fail
by
Short the Internet! That's the advice of investment adviser Mike Murphy, who is not unfamiliar with Net stocks, which have been on fire. What's Murphy's beef? Plenty, says the editor of the Overpriced Stock Service and California Technology Stock Letter.
The simplest way to evaluate Internet stocks is using a ratio of market capitalization to 12-month sales, which Murphy argues is a measure of how much hot air there is in the price. Another measure: the ratio of price to projected 1999 earnings--a measure of "overvaluation even in the absence of hot air," explains Murphy. Almost all Internet stocks fail miserably when put to these tests, insists Murphy--from Yahoo! to Amazon.com. "There is a tremendous amount of money to made here on the downside," he says.
But which Internet stocks deserve "priority" shorting? Certain "search-engine" companies--providers of an Internet index or directory--are Murphy's top bets : He doesn't see them catching up with the Internet's No.1 directory, Yahoo! The also-rans, says Murphy, are Lycos (LCOS), Infoseek (SEEK), and Excite (XCIT). He argues that with Yahoo!, the 800-pound gorilla in the business, the lesser lights face dim prospects. "For the basic search-engine companies, the first round is over, and Yahoo! won," notes Murphy. Nevertheless, their shares have soared, although they have not yet made money.
Lycos zoomed from 11 in June, 1997, to 61 7/8 on Apr. 22, with a $1 billion market capitalization. When the bubble pops, Lycos--now in fourth place--should drop to a market cap of $500 million, or 32 a share, says Murphy. Expected 1999 earnings: 17 cents a share.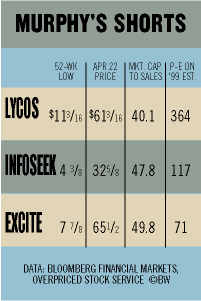 Infoseek is a third-tier search engine that's losing even more money per share than Lycos, notes Murphy. He recommends shorting the stock--now at 32 5/8--anywhere above 20, for a target of 14. He expects it will earn 28 cents in 1999.
Why does Murphy pick on No.2 Excite, whose market cap is $1.6 billion? It has lost even more than Lycos in the past year. So Murphy thinks when Lycos drops to a $500 million market cap, Excite's will fall to $700 million--a plunge from 65 1/2 to 34 a share. He's shorting Excite over 56. "We are being generous," he says. Lycos CEO Bob Davis says past quarters showed record (sales) growth. And 12 analysts rate Lycos a buy, adds Davis. Infoseek and Excite officials couldn't be reached.
Before it's here, it's on the Bloomberg Terminal.
LEARN MORE