Hunting For Talent Around The Globe...While Sweating Out The Asian Flu
It took three years and four prototypes for American designer Roger Black to do a makeover for The Straits Times, Singapore's 153-year-old English-language daily and an alter ego of this modern metropolis. Out went unfriendly typefaces and clutter, and in came lots of color, bigger photos, bolder stories, and a sparse, clean layout. "We don't have the expertise here," says Straits Times executive Tham Kai Wor, explaining why Black led the effort.
Singapore is banking on foreign talent such as Black as it strives to create a knowledge-based economy and become the region's financial and commercial hub. However, the transition from low-value-added production--primarily electronics and oil and petrochemical products--comes when this island-state is grappling with Asia's financial crisis. To steer through troubled waters, Finance Minister Richard Hu is placing his bets on medium- to long-term growth strategies. Development expenditure, mostly for social and economic infrastructure, is budgeted at $7.4 billion this year, a hefty 7.5% of gross domestic product, and up 25% over 1997. "It's very much the right budget. On its sleeve it wears a badge saying, `We are not going to panic,"' observes Peter Douglas, director of Aberdeen Asset Management Asia in Singapore.
Such a strategy means no income tax breaks for citizens but plenty for companies hiring foreign talent. The message is that if Malaysia, Thailand, and Indonesia, by virtue of their depreciated currencies, threaten to become lean and cost-effective production centers, so be it; Singapore wants to be "the intelligent island."
But programmers and information technology (IT) designers are much in demand globally--as far away as the U.S. and as near as Malaysia, which is investing in a vast software-technology park. And Singapore, with a population of only 3.6 million, can't rely on homegrown professionals. "About 9,000 students entered university last year," says Hui Weng Tat, a labor economist and deputy director of the public-policy program at the National University of Singapore. "But by 2000, we will need twice that number." In spite of a $1.3 billion investment in IT programs, Singapore figures it will require an additional 3,000 foreign high-tech professionals in the next two years.
WELCOME MAT. Singapore hunts for foreign talent just as any top multinational would--and unlike the U.S., which maintains its immigration roadblocks, the government is going all-out to help local industry. Manpower Ministry officials have a budget of $45 million to market this spic-and-span tropical city of skyscrapers. The Ministry recently launched "Contact Singapore," a talent hunt to attract professionals from the U.S., Britain, and Australia. The perks include subsidized government housing, with monthly rents from $450 to $1,000; liberal work-permit provisions; low crime; and cable TV with access to more than 30 international channels. By laying out such a lavish welcome mat, Singapore may well overcome its reputation in the West as a nation that errs on the stern side.
A bigger worry, of course, is the Asian crisis. It's true that sound fundamentals and a $70 billion-plus reserve have insulated Singapore to some extent. But its close economic ties to the region render it vulnerable. Growth forecasts for 1998 range from 2.5% to 4.5%, compared with near double-digit rates in the last decade. Financial services and commerce--the very pillars of the new Singapore--are being clobbered. For example, bigger loan-loss provisions dragged down profits at Singapore's six banking groups by an average of 30% last year.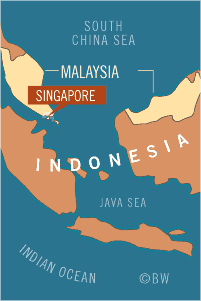 But foreign investors, who earlier tended to diagnose the entire region as gravely ill, are now searching out pockets of relative health, such as Singapore. The International Monetary Fund, in its latest review, lauded the $23,000-per-capita nation for sound economic management and expressed confidence in its financial institutions. "They are very good at concepts, identifying problems, and defining strategies. But execution has to do with people's skills," says Bob Broadfoot, an analyst with Political Economic Risk Consulting in Hong Kong. That's exactly why, in the era of the global economy, the mandarins' worldwide search for high-tech wizardry has become so critical.
Before it's here, it's on the Bloomberg Terminal.
LEARN MORE