Computer Learning Centers: School For Scandal?
The school chain may be fiddling around with the math
Debra Sparks
Vocational schools don't normally quicken investors' pulses. But over the past year, eager buyers--including Fidelity Investments--couldn't get enough of the shares of Computer Learning Centers (CLC), a chain of 25 schools that relies almost exclusively on government funding in the form of student aid.
CLC has been growing rapidly: Enrollment has more than doubled since 1996, to over 10,000 students. Since its initial public offering in July, 1995, the stock soared--from a split-adjusted $2.67 to 39 3/8 on Mar. 10. Last year, CLC reported revenues of $97 million and earnings north of $9 million--making for a price-earnings ratio of 70.
IN THE SPOTLIGHT. Now, CLC has abruptly dropped back to earth. The Illinois attorney general filed a fraud suit on Mar. 10, alleging that CLC misrepresented the quality of its education, placement rates, promises of high earnings, and starting salaries at its Schaumburg (Ill.) campus. State officials then ordered the school to suspend its marketing and enrollment for 30 days. Several other state attorneys general are also taking a close look at CLC's business practices. Three weeks after the Illinois action, the U.S. Education Dept., according to a letter sent to the company, questioned CLC's student data and put it on "heightened cash-monitoring status." That means CLC will continue to receive government funds--but only after providing evidence that those funds have indeed been credited to students' accounts. CLC's stock, meanwhile, has been hovering around 12. Luckily for Chairman Harry H. Gaines and CEO Reid R. Bechtle, they have sold a major portion of their stock over the past two years.
"We don't believe anyone in the company has done anything unlawful," says Bechtle. "And we stand by the fact we provide excellent training to the students that attend our schools, and excellent job placement to our graduates." After responding to several questions from BUSINESS WEEK, Bechtle declined to answer additional questions.
MORE DEFAULTS. Vocational-school abuses have been a recurrent problem. In the late 1980s, a spate of trouble spurred a crackdown by the Education Dept. But problems continue. In 1996, a $2.6 million verdict in San Diego was entered against ITT Educational Services Inc., which was found liable for deceptive marketing and sales tactics. The case is being appealed.
Even though taxpayers must pick up the tab for students who default on their loans, oversight and enforcement by the Education Dept. and the Accrediting Council for Independent Colleges & Schools (ACICS) is very weak, says one educational consultant, adding: "Most states don't have the manpower or resources to adequately monitor the educational quality of schools they license." Education Dept. officials claim they maintain the appropriate oversight.
By all appearances, CLC's prime strategy has been rapid growth. According to former employees, CLC executives are zealous in enrolling new students. In sworn testimony in a private lawsuit for wrongful termination against CLC in 1996, the school director for CLC's San Francisco school, Jo Ann Meron, said there were several months when the school enrolled students who hadn't completed their required General Equivalency Diploma (GED) exams, in apparent violation of federal law. That same year, John Rogers Educational Consulting Services, which was asked to examine CLC's Alexandria (Va.) school, wrote in a report that "the campus does not adhere to its admission standards, often waiving these standards for students who fail to meet them."
"MISLEADING." It appears that this practice might be continuing. Last September, an evaluation of CLC's Laurel (Md.) campus by the ACICS noted that several CLC students did not have high school diplomas or General Equivalency Diplomas on file. Several students at Laurel confirm these policies: "The admissions process was slightly misleading," says one student who asked not to be named. "It was a sales pitch, not a screening. I've seen people admitted here who can't tie their shoes." Says Bechtle: "As far as I know, we have received no complaints from students in the state of Maryland."
The Education Dept. recently sent a letter to the company saying it was scrutinizing CLC's dropout rates as well. It requested that CLC submit the names of students who dropped out of school in the past two years, including their Social Security numbers, and detailed reports of these students' attendance dates. Education's inquiry into CLC's dropout rates may indicate that it suspects CLC may be delaying tuition refunds to students who drop out. Auditing reports dating back to 1994 have noted instances of late refunds at several different campuses. The ACICS' evaluation of CLC's Laurel campus recently noted that when some of these students dropped out of school, the company refunded only part of their tuition. According to the ACICS, all of the tuition should have been refunded, since some of the students--those who had no GEDs--shouldn't have been admitted in the first place.
If true, this could artificially inflate revenues, suggests Abe Mastbaum, chief financial officer of American Securities in New York and a certified public accountant who has examined a number of CLC's books. He says that "deferred revenues"--unearned tuition on CLC's books due to the industry practice of booking revenues up front--"is higher than those of its peers." Adds Mastbaum, "That leaves one looking for a corresponding asset on the balance sheet. It is not readily apparent where or what that asset is."
CLC execs deny this is a problem. Chief Financial Officer Charles Cosgrove told analysts in November: "We have not a school today in which we would keep any dollars that would go beyond [the required time period for refunds].... Not a single situation today."
There are questions about other aspects of CLC's revenues. According to publicly available auditing reports, information from former CLC employees and current students, and internal documents, CLC may be seriously overcharging students on book prices. Federal and state laws, including California's Maxine Waters Reform & Student Protection Act, seek to protect students from "fraudulent" practices. The California act states that "The amount charged for each [book] shall not exceed the [book's] fair market value."
TEXTBOOK CASE. Yet according to Les A. Francis Jr., former assistant school director and education director at CLC, the school charges students $750 for photocopied lab manuals for its computer-networking classes. "This is for a manual poorly written and full of typographical errors.... In the open market, a book like that might sell at CompUSA for $49.95," he says. "But the quality is such I don't think even CompUSA would sell it."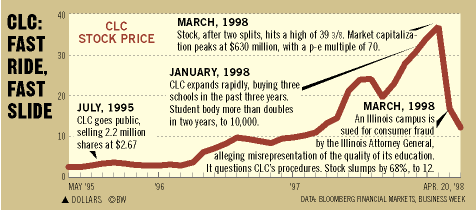 Federal and state laws also stipulate that book prices must be itemized, so students know exactly what they are paying. A student who recently signed up at CLC's San Francisco campus, and who asked that her name not be used, provided documents to BUSINESS WEEK showing a signed contract with the school. The space for book prices had been left blank.
Bechtle maintains that the school has never charged more than $110 for an internally produced book. But he does admit that several CLC schools do not break out book prices in their tuition costs.
Cosgrove's--and Bechtle's--denials notwithstanding, the stock market has already rendered a harsh verdict on CLC. Now, it will be up to the company to demonstrate that it isn't just another tarnished vocational school that puts profits ahead of education.
Before it's here, it's on the Bloomberg Terminal.
LEARN MORE