United Technologies: Going Up
Asia and cold weather may spell woes for United Technologies. But its stock hit an all-time high of 98 1/4 on Apr. 14 and closed at 95 5/8 the next day. Why? Wall Street loves cost-cutting. On Apr. 13, UT's Otis Elevator announced a 3% workforce cut and the closing of 13 engineering centers--moves analysts say will drive margins into double digits. Belt tightening is also expected at air-conditioner maker Carrier. But the Asian building boom UT was counting on for growth seems stuck between floors.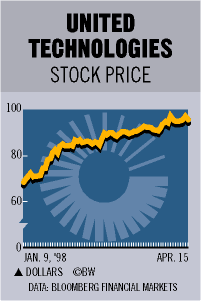 Before it's here, it's on the Bloomberg Terminal.
LEARN MORE