U.S.: Scanning The Skies For Signs Of Slower Growth
Will a red-hot economy spoil this low-inflation paradise?
by
The spring months will be critical for the U.S. economy. Given last quarter's surprising burst of spending, especially by consumers, both Wall Street and some Federal Reserve officials are starting to get a little antsy, waiting for Asia--or anything--to cool off the economy, so they can be assured that inflation will remain benign.
March reports on retail sales and job growth suggest that activity is throttling down from its breakneck pace. But so far, it's still hard to tell whether the cooler-looking data presage a lasting shift to slower growth. They might be only the reverse side of the weather-related vigor in January and February--and the sizzling underlying trend may still be in place.
Indeed, despite the softer March figures, consumers were red-hot last quarter, with the jump in retail buying the largest in 11 1/2 years (chart). Some slowdown in second-quarter spending is to be expected, since the warm weather in the first quarter pulled forward some sales that normally would have occurred this quarter. But the first-quarter results were so strong that second-quarter buying may have to ease considerably to convince the financial markets and policymakers that any slowdown is real and lasting.
The economy's pace is especially important now, because much of the current strength is in services, where pricing power is less constrained by the Asian crisis and by global competition generally. One trend in the poor first-quarter profit results is that service businesses tended to fare better than goods producers. The March price indexes were as tame as ever, but with labor markets in services historically tight, and with service wages accelerating, service prices are the place to watch for any nascent inflation pressures.
SELLERS OF RETAIL GOODS can only wish they had more pricing power, but for now, they are making up for it in the sheer volume of goods sold. Retail receipts declined 0.1% in March, probably reflecting both the weather effect and a late Easter. Excluding car dealers, sales rose 0.1%. Since receipts jumped 1% in January and 0.7% in February, sales for the quarter increased at a 6.9% annual rate. But because of falling retail prices, primarily for gasoline and computers, real sales posted a 9.9% annual rate of increase, the best quarterly showing in more than a decade.
More important, after the retail data are adjusted to match up with the Commerce Dept.'s measure of consumer spending in the gross domestic product figures, BUSINESS WEEK estimates that real consumer spending on goods and services in the first quarter rose at an annual rate of about 6%. That would be the best quarterly performance in six years, and it would cap the strongest three-quarter run of consumer spending since 1986.
That exceptional showing means that consumer spending and housing outlays, which also shot up last quarter, will provide a powerful offset to the expected sharp widening in the trade deficit. As a result, first-quarter GDP growth, due out on Apr. 30, should easily top 3%, and some analysts expect growth of 3.5% or greater.
That's especially likely, since inventory growth appears not to have slowed as much as expected (chart). Business inventories in February jumped 0.6%, and first-quarter stock levels are rising as fast as they did in the fourth quarter. Even with the Asia crisis providing a sizable hit, the economy continued to grow in excess of the 2 1/4% to 2 1/2% pace that most economists feel is consistent with keeping inflation down.
The weather effect was clear in the retail sales numbers. Sales at building-materials and hardware stores fell 0.6% in March, after posting huge increases of 1.7% in February and 3.8% in January. Department stores showed a similar pattern, with March sales off 0.2%, while buying in the two previous months increased 1.5% and 1.8%. April sales may rebound, given the stronger tone of the weekly retail surveys during the first half of the month.
THE WHEN AND IF of slower growth will go far in setting the inflation outlook. Right now, the latest price data show no inflation problems, although the best news on the service side may be behind us.
Consumer prices for all goods and services were unchanged in March. Excluding food and energy, core prices inched up a puny 0.1%. Over the past 12 months, total prices advanced 1.4%, as the 8.6% plunge in energy costs has offset other price increases. Core consumer prices, which exclude food and energy, are up 2.1% for the year.
But there's a divergence: Core service prices were up 3% in the year ended in March, while goods prices had hardly budged (chart). Service inflation in the first quarter was up slightly from the second half of 1997. That uptick shows how strong demand may be working its way into the inflation equation. The robust housing market is boosting the cost of shelter, which plays a dominant role in the consumer price index, while the tight labor markets are causing service wages to rise. In response, some service providers are trying to lift prices to cover their extra costs.
For example, when General Electric Co. reported a solid 13% gain in its first-quarter earnings, analysts noted that GE's service businesses generated the lion's share of revenues, amid a dearth of pricing power in the markets for the goods that GE makes.
THE SITUATION IN GOODS PRODUCTION is different from services for two reasons. One, productivity gains are higher in manufacturing, so factories are covering their bigger labor bills by producing more during each work hour. And foreign competition is preventing some domestic businesses from raising prices.
Indeed, import prices continued their tailspin in March. But even in trade, not all pricing trends are alike. The biggest decline has been in commodities, mostly oil, but also metals and wood. The drop in raw-material prices is the result of weak demand in Asia.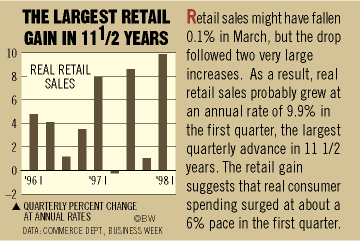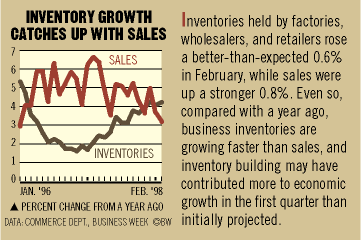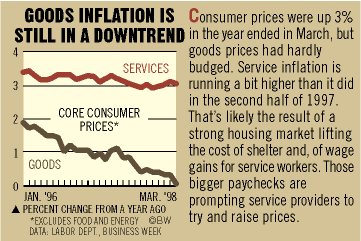 Prices of imported consumer goods are also falling, but the deflation rate has stabilized at 1% for the past half-year. The biggest surprise may be prices of imported cars, up 0.7% in March from a year ago. The gain suggests that some foreign carmakers, most likely those in Japan, are raising prices to earn more U.S. dollars. Over the past year, total nonoil import prices are down 3.2%.
But how much longer can this inflation paradise last in an economy that continues to grow in excess of 3%? That was on the mind of Fed Governor Laurence H. Meyer when he spoke on Apr. 9. Meyer warned that the economy's current pace was incompatible with keeping inflation down, and slower growth is required, preferably soon. Meyer saw only two ways to reach a slowdown. "Asia may accomplish this," he said, "in which case it would substitute for monetary tightening that in my judgment would otherwise be required."
Before it's here, it's on the Bloomberg Terminal.
LEARN MORE