Romance For Amex And Aig?
By
In February, investment manager Robin Manners West stuck her neck out to tell this column that one bank she was sure would be taken over was First Chicago NBD, the nation's ninth-largest, and that Banc One would acquire it. Bingo! On Apr. 13, First Chicago and Banc One announced they were merging, creating the No.2 credit-card company. No.1 is Citicorp, now uniting with Travelers Group.
What does all this signify? Plenty for American Express (AXP)--best known for its charge-card and travel services--and for American International Group (AIG), says West, who manages $1.8 billion for the New Mexico State Investment Council.
"AmEx had better do something to battle these new credit-card powerhouses," she argues. Ditto, she adds, for AIG, one of the largest holdings in her portfolio. Unless it moves quickly, says West, this insurance colossus will be overtaken by Citigroup (Citicorp-Travelers) as the world's largest financial-services company--in terms of market capitalization. What will AIG need to compete against Citigroup?
The answer, says West, is an AIG-AmEx merger, which she thinks they may be considering. Is such a deal doable? "After the recent round of mergers and takeovers, anything is possible," asserts Wayne Nordberg, chief of equity investing at Lord Abbett. He says more marriages lie ahead in the financial-services industry.
"AIG and AmEx will really need each other now, and there is no overlap in operations, except a tad in the financial-services area," says West. AmEx, whose stock has been hot--jumping from 74 in October to 103 3/4 on Apr. 15--has a market cap of $50 billion. AIG, whose stock also has been on fire--up from 98 in late November to 133 1/2--has a far larger market cap: $95 billion.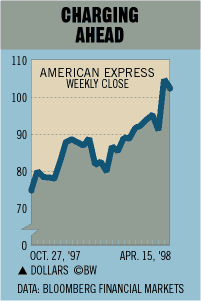 How much will AmEx go for? West believes AmEx, with revenues of $18 billion, is worth 130 to 140 a share in a buyout. Both AIG, whose revenues exceed $32 billion, and AmEx would benefit from a more diverse base of business, notes West, "something that AmEx needs to have, as seen from the Asian crisis' slowing effect on its American Express Bank operations."
The cross-selling opportunities are enormous, says West. AmEx would be greatly helped by AIG's global network and clout in 130 countries--and AIG by AmEx's marketing skill and franchise overseas. Last year, Citicorp acknowledged that it talked merger with AmEx, which insisted on staying independent. AmEx' Susan Miller says AmEx won't comment on rumors. Likewise, says Joe Norton at AIG.
Before it's here, it's on the Bloomberg Terminal.
LEARN MORE