business
Northern Ireland Is Ready To Blast Out Of The Bog
The new peace deal may lure investments and jobs
Stanley Reed
The historic Apr. 9 peace deal between the governments of Britain and Ireland and the main Northern Ireland political parties was a watershed. But as the North's party leaders straggle back from their Easter celebrations, they are facing an equally difficult challenge: how to keep up the momentum.
One important way, all parties agree, is to attract investment and create jobs in Northern Ireland--to emulate the success of the Irish Republic to the south, which has been an investment magnet in recent years. Once a backwater, the Republic of Ireland has been enjoying robust growth. An economic boom in the North would soak up pockets of unemployment there and be a big incentive for paramilitary groups to put away their rifles and plastic explosives for good.
It won't happen overnight. Businesses have been disappointed when violence erupted after earlier cease-fires. "We've seen it all before, and we don't have any trust in it," says Sonny Baird, who runs Internet Cafe in central Belfast.
SOUTHERN EXPOSURE. Still, executives say this time could be different. All the main parties--including Gerry Adams, president of Sinn Fein, the political wing of the Irish Republican Army--are on board. The British and Irish Prime Ministers, Tony Blair and Bertie Ahern, have their prestige on the line, and President Clinton is also involved. "I think we will see an increase in business activity building up in the coming years from both tourism and investment," says Ronnie Kells, group chief executive of Ulster Bank Ltd., the Irish arm of Britain's National Westminster Bank.
Subtle changes in the political and economic climate helped pave the way for this deal. Despite the "troubles," Northern Ireland has taken a cue from its southern neighbor in trying to lure investors--with some success. Since 1993, Northern Ireland has attracted about $2.5 billion in foreign investment. Foreign companies such as Seagate Technology Inc. and Emerson Electric Co. now employ about 11,000 people, 11% of the total manufacturing workforce.
Multinationals that have invested have found a well-educated, hard-working labor force. Northern Telecom Ltd., which has big investments in both Irelands, is sufficiently pleased with the latest accord that it is ready to pour $47 million more into its facilities at Monkstown in the north, where some 1,200 employees design and manufacture fiber-optic transmission gear. "Peace and stability would remove a huge obstacle for potential investment for Nortel and other companies," says Robert J. O'Brien, a Nortel vice-president.
Foreign investment flows, as well as Britain's spending about $3,000 annually for each of the 1.6 million inhabitants, have helped give Northern Ireland slightly faster economic growth than Britain as a whole in recent years. But it remains the poorest region in the nation, with a gross domestic product per person of $14,400 a year--81% of the British average. And while unemployment has declined, its 7.9% rate still is well above the British average of 4.8%.
If peace prevails, the North will have a chance at duplicating the economic revival of the Irish Republic, where living standards rival those in England, Scotland, and Wales. The 8.2% economic growth rate racked up by the Republic of Ireland last year was the highest in the European Union.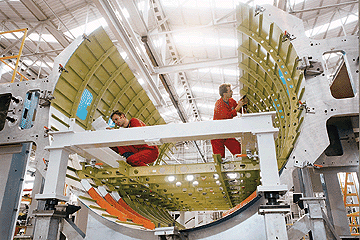 Certainly, some foreign companies are bullish on Northern Ireland. "We have seen what has been done in the South, and we see the potential here," Roy McNulty, CEO of Short Brothers, said last year. The company, a subsidiary of Canadian airplane maker Bombardier Inc., is Northern Ireland's largest private employer. A Bombardier spokesman says the latest accord "bodes well" for the company's operations there.
Whether the North can attract significant new investment, though, remains to be seen. Sterling has strengthened 14% against the Irish pound in the past year, so it's cheaper to go south. As a result, Northern Ireland will have to offer incentives. Northern politicians have every reason to be accommodating to business, since the peace accord turns over more responsibility for the economy to them. Gerry Adams proved a crack fund-raiser for Sinn Fein. Now, the world can see how good he is at wooing foreign investors.
Before it's here, it's on the Bloomberg Terminal.
LEARN MORE