Mexico: Clamping Down To Bolster Confidence
Working in tandem, Mexico's fiscal and monetary decision-makers are tightening policies to head off financial doubts caused by a weakening peso, low oil prices, and higher inflation.
Private economists and the Organization for Economic Cooperation & Development already expect Mexico's economy to grow between 4.5% and 5% this year--down from 7% in 1997--and several factors are worth watching. First, the collapse of oil prices has cut exports and public revenues--since the petroleum industry is a state monopoly. Oil sales account for 40% of government receipts. So the government has twice cut its spending programs so far this year, for a total reduction of $3 billion. In the meantime, the peso has weakened against the U.S. dollar, losing 6.8% from Jan. 1 to Mar. 10. The slide was stopped when the Banco de Mexico removed some liquidity from the banking system, in effect hiking interest rates. The peso has regained 2.1% since then.
The weaker peso, coupled with strong domestic demand, is worsening Mexico's trade position. The trade balance in February posted a deficit of $635 million, compared with a surplus of $380 million a year ago. Exports rose a respectable 10.5% from a year ago, but imports surged 24.2%. The trade balance is likely to end 1998 firmly in the red, after a surplus of $600 million in 1997.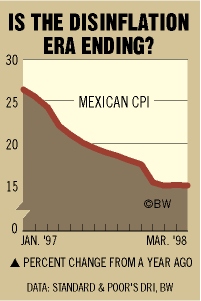 The peso-demand mix may also have stopped the rapid decline in inflation. Consumer prices rose 15.3% in the year ended in March, the same pace as in the previous two months (chart). If, in fact, the disinflation era is over, then Mexico's inflation rate will be higher than the government's 12% target for 1998 and higher than its 7% pace before the 1994 devaluation. That will put more downward pressure on the peso.
The twin restrictive stances could cause some rethinking about growth prospects, if not for 1998, then for 1999. But consumer spending, bolstered by rising real wages, and business investment still look strong enough for Mexico to avoid any serious slowdown.
Before it's here, it's on the Bloomberg Terminal.
LEARN MORE