Gaylord Snaps To Attention
by
Paper stocks appear to be waking up to the bull market, finally. Even laggard Gaylord Container (GCR), a producer of containerboard and unbleached kraft paper, has perked up, surging from 5 1/2 in mid-January to 8. Analysts expect Gaylord, which posted a loss last year, to be in the red again this year and turn in a profit only in 1999. One thing buoying the stock is talk of consolidation.
At Gaylord, a "strong and well-focused asset base makes it an attractive takeover candidate," says BT Alex. Brown analyst Mark Wilde.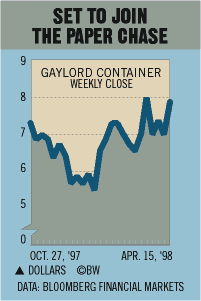 Containerboard is a highly fragmented part of the industry, so consolidation may be the quick way of enhancing shareholder returns, says Wilde. Gaylord insiders, he notes, own a fat slice of the stock. (Chairman Marvin Pomerantz has 10%). And management "appears more open now to the idea of selling the company than in the past," either a cash or stock deal. "A strategic industry player could pay 16 to 17 a share for the stock," he adds.
He thinks papermaker Weyerhaeuser could be the likely buyer. Others he believes are interested: Union Camp, International Paper, and Jefferson Smurfit Group, a producer of corrugated cases, paper, paperboard, and newsprint. "There's limited downside risk in the stock at this price," says Wilde, who expects Gaylord to earn $1 in 1999. Gaylord's Pomerantz says the company isn't for sale, but "it's aggressively pursuing all options to enhance shareholder value."
Before it's here, it's on the Bloomberg Terminal.
LEARN MORE