business
A Resort Basks In Capitalism...As Crime Busters Cut Into The Murk
Justin Keay
The vendor on Varna's boardwalk gazes wistfully at the box containing Bulgarian Monopoly. "It's my last one," he says. "They've been selling so fast. I'll let you have it for 20,000 lev [$23]. That's a deal, believe me."
The hot demand for capitalism's best-known board game captures the new atmosphere in this elegant but faded Black Sea port, a city at the forefront of Bulgaria's efforts to reinvent itself after 10 years of gross mismanagement. Varna has been a resort for generations, mainly for workers, but since the 1980s for Western visitors, too. Along the seafront promenade at dusk, well-dressed people sip coffee at cafes and chat about movies, exuding a sense of well-being that would not be out of place in, say, Spain or Italy. In fact, the only thing that would be are the packs of mutts that scrounge along the streets for food and nip the occasional ankle.
TAX REFORM. The running dogs of capitalism, maybe? Like Monopoly's railroads and utilities, just about everything in Varna seems up for grabs. Last year's sale of nearby Sodi Devnya, one of the world's largest soda ash makers, to Belgium's Solvay for $160 million, was Bulgaria's biggest privatization to date. In February, plans were announced to sell the local shipyard, the largest in the nation, along with many of the hotels that are the lifeblood of the city. With names like Golden Sands, whose 61 hotels can be seen from Varna's city center, and the equally extensive Sunny Beach further down the coast, the resorts are both a monument to Bulgaria's past obsession with giantism and its hope for the future. The government aims to sell them off in groups of 5 or 10. Since foreign investors can't own land, investors likely will be Bulgarian groups backed with foreign money. The sales are expected to continue through summer. Prices should be low, since the hotels need upgrading.
Such privatizations are part of the drive by Prime Minister Ivan Kostov, whose right-of-center regime came to power a year ago, to revive Bulgaria's moribund economy. An estimated $25 billion left the country through capital flight in the late 1980s and early 1990s, and the incompetent Socialist government that held power from 1994 until April, 1997, completed the disaster. In 1997, average monthly earnings dropped to $15, from $100 in 1995, partly thanks to inflation topping 1,000%. Gross domestic product sank 7.4%.
"We have a lot of work ahead of us," says Deputy Prime Minister Aleksander Boshkov. He says places like Varna, whose commercial traditions survived the dark years, will serve as models. For example, there's the Happy Bar & Grill, founded in late 1994 and a first for Bulgaria: a local chain with local food.
Some critics, however, say that the government's rushed reforms could stifle capitalism. Bulgaria's private sector used to be largely synonymous with its criminal one, but tax laws passed late last year aim to force the underground economy into the open. "You need to give people leeway," argues Douglas Dryden, a British manager of the commercial Rafeissenbank Bulgaria in Sofia. "This economy needs an illegal base to give it working capital."
Until last year's vote, Bulgaria's illicit private sector was notorious: prostitution and drug rackets, audio and software piracy, counterfeiting and money-laundering rings. Almost all could rest assured that the state wouldn't get in the way. Perhaps no longer. Sofia has initiated new border patrols, a stronger police force, and harder-to-avoid taxes. "The main cash flows away from the state have been stopped," says Interior Minister Bogomil Bonev.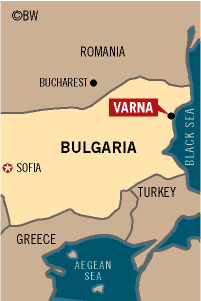 This top cop is now investigating Multigroup, a company whose estimated 200 businesses, including the luxurious Grand Hotel Varna, grew out of the shadowy dealings that once were the norm in Bulgarian privatizations. Multigroup is so amorphous that nobody seems to know who runs it. The government is looking into allegations that it is involved in exporting pirated cds.
But as with tax reform, some Bulgarians express doubts about Sofia's zeal. "I'm not sure taking on Multigroup is a good idea," says Maxim Behar, a former editor of the respected daily Standart. Behar argues that the government should focus on moving reform forward and could lose face if it takes on Multigroup and fails. For a country on the verge of collapse a year ago, failure is unthinkable.
Before it's here, it's on the Bloomberg Terminal.
LEARN MORE