The Clock Is Ticking At Casio
A cool watch lifts its stock, but a new hit is vital
Miki Tanikawa
If you live anywhere in the developed world and have children 9 years of age or older, you have either heard of the G-Shock digital watch--or you are about to. The G-Shock--the G stands for gravity--keeps working even after being dropped from a skyscraper window, thrown against a wall, or worn by a diver hundreds of feet underwater. But what really matters is, it looks cool. It comes in colors such as hot pink and lollipop yellow, and it has that bulked-up, chunky look that goes well with a skateboard and stands out nicely on the thin wrist of a teenage girl. And it runs between $100 and $240--expensive enough to earn retailers big profits, but still within reach of millions of middle-class kids worldwide. Some 19 million G-Shock watches have been sold.
G-Shock is a huge hit with kids, but the product's fate matters a great deal to three elderly Japanese executives--the Kashio brothers. They founded Casio Computer Corp. 40 years ago, and they have moved nimbly from one success to another, making a name for the company in calculators and later in watches and electronic pianos. Now, G-Shock is propelling an earnings surge at the company. For the fiscal year ended in March, the company probably will report profits more than doubled, from $30 million to $75 million, while sales should have risen 8%, to $3.7 billion. In a generally wretched stock market, Casio shares are up 24% since January. The question the Kashio brothers are asking themselves is: What do we do for an encore?
FADING CRAZE? Their answer could well determine how strong profits will remain at Casio. The brothers think that their digital technology is so strong that they can expand their line of digital cameras, while keeping the G-Shock craze going long enough for them to create new products in such areas as handheld computers. "It's my job to screen new products," says 69-year-old President Kazuo Kashio. He's confident he can come up with the new gizmos that keep Casio profits surging.
If he doesn't, Casio could hit hard times fast, since digital watches now account for about 80% of profits, according to Ikuo Matsuhashi, an analyst at Nomura Securities. The company sees more big opportunities in digital cameras, where it was a pioneer just a few years ago. The company has sold 1.5 million digital cameras that feature a built-in monitor, so the user can instantly see how the picture will look. Now, the company is rolling out digital cameras that take motion pictures as well as stills. The trouble is that competition in digital cameras is already ferocious and margins are razor-thin.
Other lines hold promise. There's Casio's handheld PC--dubbed the Casiopea--that's preloaded with Windows CE, a miniature version of Microsoft Corp.'s Windows. Kazuo Kashio even foresees a day when Casio can sell a watch that sends and receives voice communications, pictures, and data. "I see an unlimited potential in what a wristwatch can do," he says. But that day is far off, and sales of Casiopea are not nearly so great as Casio's revenue from conventional watches. So it's vital for Casio to keep the G-Shock line going until some of the other new products yield rich profits.
The craze is still vibrant in Japan, where one Tokyo store displays a sign that reads: "We ask customers to limit themselves to one G-Shock purchase at a time." The company is churning out new models like crazy to keep the fad-conscious hooked. Some 500 varieties of the watch have come out, including one with a backlight showing an angel and a "Lovers Collection" of his-and-hers G-Shocks. "People even keep a variety of G-Shocks to match their clothes," says Masanori Tadano, deputy chief of a Marui Co. store in Shibuya. And rare G-Shocks trade in an active secondary market. "The prized versions can fetch the price of a Rolex," says the clerk at one Tokyo watch store.
Line extensions help, too. Baby-G is mostly for women, with pastel colors and softer contours. Mr. G is the sober-colored line for the country's young salarymen who must look serious and professional. G-Cool eliminates the rugged features of the G-Shock and sports a more sophisticated design. "It's a company that is close to consumers," says Yoshiharu Izumi, analyst at UBS Securities Inc. in Tokyo.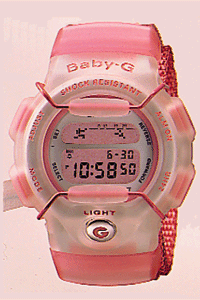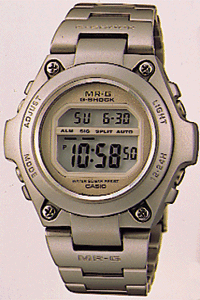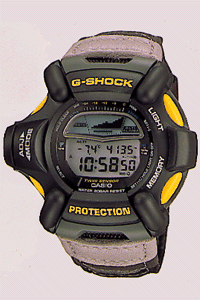 Analysts generally think G-Shock sales will hold up this year in Japan, then taper off. Overseas markets could stay hotter longer. In the U.S., G-Shock sales have only taken off in the past year, when stars such as the Spice Girls started sporting them. "I think the trend still has legs here," says Anthony D'Ambrosio, an executive vice-president at Tourneau Inc., one of the biggest watch retailers in New York City. New York stores have reported spot shortages of G-Shock as the popularity of the product builds. Demand can end fast for fads, though. Casio has a hit, but it still has to prove its profits are as durable as a shockproof watch.
Before it's here, it's on the Bloomberg Terminal.
LEARN MORE