Lufthansa Has The Wind Beneath Its Wings
The carrier has cut staff and costs and beaten back rivals
David Woodruff
Jurgen Weber is flying high. A year after free competition hit Europe's airlines, Lufthansa's 56-year-old chief executive is making Germany's former flag carrier a stalwart competitor. Under a cadre of young management recruits, Lufthansa's burdensome cost structure is crumbling--and earnings are soaring. Pretax income rose 118% in 1997, to $815 million, on sales of $12.5 billion. Says Guy O. Kekwick, a Goldman, Sachs & Co. analyst in London: "They're in better shape than they've ever been."
Weber, an engineer who joined Lufthansa in 1967, shares credit for the new look with Frederick Reid, a 47-year-old Yank whom Weber tapped a year ago to run the passenger business. They are reshaping Lufthansa to fend off big, efficient rivals such as British Airways PLC and nimble, low-cost upstarts. But challenges remain: Germany's labor rates are still a problem, and rivals haven't quit cutting costs. "We're still way too expensive," concedes Reid, an American Airlines Inc. veteran.
True enough. Lufthansa's unit costs are still 10% higher than those of BA, Europe's most efficient carrier. But Weber and Reid have made striking progress. In the past two years, they have cut $1 billion out of operating outlays. By 2000, Weber wants to take operating costs down to 8.2 cents for each seat/kilometer, from 9.4 cents last year.
To get there, Weber and Reid have cut away several layers of managers and smoothed once bumpy relations with unions. The management cuts were concentrated in accounting, administration, and sales. In addition, three-fourths of the passenger division's top 41 executives have been replaced.
NO BUFFET. To ease tensions with unions, management opened its books and initiated quarterly roundtable talks. It also enlisted employees' help in cutting costs. Last year, workers helped trim the catering bill by $27.2 million. Employees proposed axing the buffets at departure lounges and adding more food on planes. "Savings are needed everywhere," agrees Franz-Eduard Macht, works council chairman.
So far, Weber has fended off rivals' attempts to muscle into Germany, Europe's richest passenger market. Lufthansa squashed Deutsche BA, an affiliate of British Airways, when it went after the busiest route, between Frankfurt and Munich. By matching Deutsche BA's low fares--$54 one way--Lufthansa kept its planes full and left the newcomer's 80% empty. After four months of heavy losses, Deutsche BA dropped out of the fight at the end of March. "Lufthansa has an incredible lock on the German market," says Deutsche BA CEO Carl H. Michel.
To shore up profitable international routes, Weber looks to more alliances. Late last year, he agreed with Singapore Airlines to coordinate flights, share passengers, and honor each other's frequent-flyer programs. Analysts say nearly a dozen such arrangements, including one with United Airlines Inc., contributed an estimated $220 million in revenue and reduced costs last year.
Weber can't yet afford to ease off. Indeed, as competitors cut costs further, Lufthansa must accelerate its pace. In addition, the exchange rate is a double liability. With most revenues in Deutschemarks, it is more vulnerable than some others to any unexpected spike in dollar-denominated fuel prices. Analysts reckon the weak mark contributed about $110 million to pretax income last year. A turn in the currency markets could hit results hard.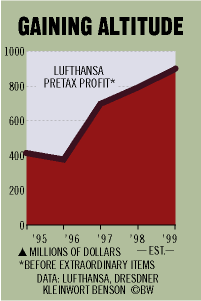 SLOW AX. Moreover, Lufthansa continues to lose money on many short flights. Chris Tarry, a Dresdner Kleinwort Benson analyst in London, estimates Lufthansa lost $136 million in Germany last year, slightly more than in 1996. Reid has been slow to ax money-losing short hops, such as Hamburg-Cologne, to protect market share. But savings will be hard to find elsewhere. Germany's airport fees are among the world's highest. Congestion and inefficiency can keep planes on the ground up to an hour between flights, vs. 15 minutes for the best U.S. airlines.
Weber may eventually start a low-cost subsidiary to serve money-losing destinations. For now, he seems to have some breathing room. With European economies picking up, so are seat-occupancy rates. While the Asian crisis has hit others, Lufthansa is strong in markets that so far have been largely unaffected. The real trial for Weber's cost-cutting efforts will come when fare wars get nasty again.
Before it's here, it's on the Bloomberg Terminal.
LEARN MORE