U.S.: For Corporate America, A Reversal Of Fortunes
Now, earnings are under pressure, and U.S. households are in clover
by
Up till now, the expansion of the 1990s had a familiar theme: Corporate America downsized and invested its way to ever-higher profits, while Household America struggled to get ahead amid poor growth in real wages. Now, that story is changing, perhaps dramatically.
Businesses are having a much harder time earning a buck, even in an economy as strong as this one. Not only are earnings growing more slowly, but profit margins are also under pressure. At the same time, household income is surging, while tight labor markets and low inflation push up real wages by the fastest pace in decades. That's quite a reversal: From 1991 to 1997, the pay and benefits of workers fell to the lowest share of national income since 1968, while the portion going toward profits rose to the highest level since 1968.
This turnabout will affect the outlook for 1998. That's because the shifting trends are related, since a worker's pay is a company's cost and since low inflation is a boon for household buying power but a bane for corporate pricing power. One big concern is stock valuations, which are currently based on earnings projections that might well be overly optimistic. Also, capital spending, a driving force in the expansion, has been fueled by robust earnings growth. Weaker profits, however, will cut into capital budgets.
Meanwhile, consumers are having a field day, and there is little on the horizon to spoil the fun. While profits suffer, real household income in the first quarter appears to have risen at an annual rate of nearly 7% (chart). That would be the strongest quarter in five years, and the latest two-quarter gain is the largest in a decade. With help from an unusually warm winter, real consumer spending looks to have soared at an annual rate of about 5.5% and February home sales surged to a record level.
THIS SHIFT BETWEEN PROFITS AND INCOME presents a tough problem for the Federal Reserve. The Fed is counting on the Asian crisis to cool off the economy, but consumers are powering a gusher of domestic demand that is offsetting the Asian impact. Moreover, some companies may try to hike prices to help defray rising labor costs and shore up profits. The Fed left interest rates unchanged at its Mar. 31 meeting, but speculation is rising that the Fed may have readopted a formal bias toward future tightening.
The Fed is well aware of recent signs that the financial supports under the economy may be overly accommodative. Despite higher real interest rates and a strong dollar, liquidity appears to be flowing liberally through the economy: In particular, money growth is up sharply, and stock prices are up 13% this year. Also, competition among banks to make loans is brisk.
Moreover, the nation's purchasing managers report continued upbeat activity in the industrial sector in March. Their overall index rose to 54.8% from 53.3% in February, fueled by gains in production, new orders, employment, and slower delivery times. Although foreign bookings continued to weaken, overall orders strengthened amid surging U.S. demand.
BUT DESPITE THIS DOMESTIC VIGOR, profits are under pressure. Based on the Commerce Dept.'s fourth-quarter data on corporate profits, the squeeze may be severe. The data, reported on Mar. 26, seem like ancient history, given that companies are starting to announce their first-quarter profits. The Commerce report, however, which is based on the results of some 20,000 companies, showed some surprises.
First of all, fourth-quarter profits--adjusted for inventory values and the difference between tax-based and replacement-cost accounting--fell from their third-quarter level. That was the first decline since early 1995, when economic growth dropped below 1%, compared to this past fourth quarter's healthy 3.7% pace. Second, domestic operations accounted for two-thirds of the decline, while weaker foreign earnings were the remaining third. Finally, profits per unit of output took the largest quarterly tumble since 1995 (chart).
Unit profits are a kind of economywide profit margin that shows how much profit nonfinancial corporations generate from each unit of production. The percentage fell to 14.5% from a record 14.9% in the third quarter. And with unit labor costs apparently having surged in the first quarter, further margin erosion seems likely. Indeed, profit worries are increasingly on the minds of investors in the stock market. The growing concern is that earnings will not come in strong enough to support the recent runup in stock prices.
THE EARNING POWER OF HOUSEHOLDS, meanwhile, reached new heights in the first quarter, and one of the warmest winters on record put consumers in the mood to spend. Real outlays for goods and services rose 0.3% in February, on top of a 0.6% advance in January. Even if March buying is flat, real outlays will rise at an annual rate greater than 5% for the second time in three quarters. In fact, the latest three-quarter run in spending will likely be the strongest in 13 years.
The question is: Can consumers keep up that heady pace? As long as jobs, incomes, confidence, interest rates, and the stock market provide a firm foundation, there is no reason why they cannot. Keep in mind, however, that the quarterly pattern of household spending has been up and down for the past five quarters, so second-quarter outlays will probably look softer.
That's especially likely because warm weather in the first quarter pulled forward some buying that normally would have occurred in this quarter. March retail surveys show cooler sales than in January and February, as more normal weather returned to much of the country. In addition, March consumer confidence did decline, but the February level was a 29-year high.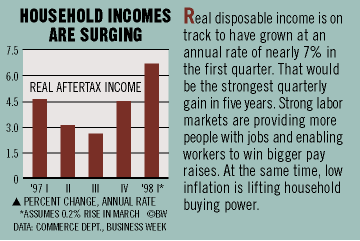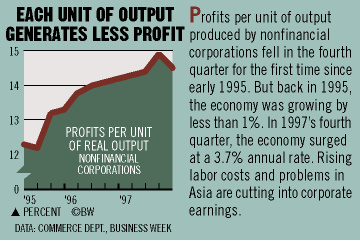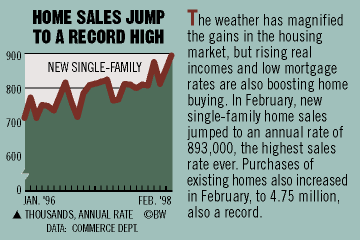 The weather has magnified the gains in the already vibrant housing market. Sales of new single-family homes jumped to a record annual rate of 893,000 in February (chart), and purchases of existing homes hit an annual rate of 4.75 million, also a record. Those levels are unlikely to hold up in the second quarter. But that will not mean that housing is weakening, only that El Nino is loosening its grip. Housing starts should remain strong, since the inventory of unsold new homes was at a record low in February.
The great unknown in the changing fortunes of consumers and businesses is productivity. Greater productivity growth would allow healthy profits and more household buying power to occur at the same time. But given that earnings are already showing signs of strain, the upcoming data on productivity could be disappointing. And if profits slipped during the robust fourth quarter, Corporate America will face tougher challenges in 1998 as the economy slows, even as Household America enjoys its new prosperity.
Before it's here, it's on the Bloomberg Terminal.
LEARN MORE