This Insurer May Pay A Premium
by
National Insurance Group (NAIG) doesn't usually show up on investors' radar screens. But it's bound to attract attention soon. Big players, including a relative of Italy's Agnelli family who owns a 10% stake, are eager to enhance the value of the stock, which is recovering from a slump that dragged it to 7 in mid-January, down from 11 in late September. It has since risen to more than 10.
National specializes in policies against floods and other hazards, and in insurance for collateral protection. It's also in the business of providing specialized information systems and services--considered to be the company's greatest jewel--to financial institutions.
Whispers are that management is thinking of splitting the company and spinning off the information services, which some pros value at $100 million, or $20 a share, based on the price-earnings ratios that other companies in the business trade at. The information unit had sales of $31 million in 1997. The insurance is worth its book value of $25 million, or some $7 a share.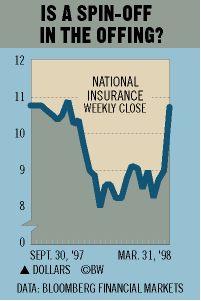 New York investment banker Richard Berman, a National stakeholder, figures the information unit will produce sales of $45.2 million in 1998. The insurance part, which accounted for $22 million last year, should bring in only $19.8 million in 1998, figures Berman. He expects information to produce pretax earnings of $13 million this year, up from 1997's $8.8 million. Insurance, on the other hand, is expected to pull in pretax earnings of only $4.8 million, down from last year's $6.8 million.
For all of 1997, National earned 79 cents a share, up from 37 cents in 1996. Berman expects National to earn 90 cents in 1998, and $1.10 to $1.20 in 1999. National didn't return calls.
Before it's here, it's on the Bloomberg Terminal.
LEARN MORE