Shell Shocked In Shanghai
A real estate bust has leaders scrambling for answers
By
Walk through the heart of Pudong's new financial district across the Huangpu River from Shanghai's fabled Bund, and the first thing you'll notice is the gleaming row of new skyscrapers standing empty. Nearby are shells of unfinished office towers where work has stopped. You'd expect this in Bangkok or Jakarta these days. But this real estate disaster is in the commercial and financial center of China--still one of the world's most dynamic economies. Concedes Shanghai Vice-Mayor Zhou Yupeng: "This is a big challenge."
Five years into an audacious $70 billion building spree meant to turn Shanghai into a financial capital rivaling Hong Kong, city officials admit they face a property bust as severe as those that helped bring down the go-go Tiger economies of Southeast Asia. And they say they're determined to act boldly to avert a disaster affecting a lot of Asian banks and developers that have poured money into Shanghai.
BIG BAILOUT? Many Pudong office buildings are only 40% occupied. Rents, once among the highest in the world, have plunged by nearly two-thirds since their 1995 peak, to around $25 per square meter per month, estimates Colliers Jardine Property Services (Shanghai) Ltd. One prime Pudong site, China Merchants Tower, recently rented an entire floor to a foreign company for around $9 a square meter. Unofficial city estimates are that work has halted at about 15% of Shanghai projects, and bad real estate loans in the area total about $910 million.
Despite the glut, more office space is on the way. Only half of the 172 planned office projects in Pudong are finished. Among those that will hit the market this year is the Jinmao Building, an 88-story tower in the heart of Pudong's Lujiazui financial district owned by the Ministry of Foreign Trade & Economic Cooperation. A 32-story Grand Hyatt hotel will occupy the skyscraper's top floors. To woo commercial tenants into the remaining space, the government has slashed rents 20%. But despite efforts to get local and foreign companies to move to Pudong, vacancy rates will remain high--one Japanese developer, for example, has already broken ground next to the Jinmao Building for what will be the world's tallest building when it's completed early in the next century. Amid the growing glut, Colliers Jardine estimates that rents could fall by an additional third over the next three years.
How Shanghai copes with its woes will be an important test of China's embryonic market-oriented financial system. If Chinese lenders are allowed to strip deadbeat developers of their properties and revitalize the market through asset sales, that would serve as a model for a country trying to dig itself out of more than $200 billion in bad bank debt. But if Beijing sticks to form, government-owned banks will roll over their loans to builders and bail out the provincial governments and state-owned companies that are Pudong's heaviest investors. That would bode ill for the financial reforms being pushed by new Prime Minister Zhu Rongji.
A collapse in Pudong also would be politically embarrassing for the Communist Party. As recently as 1992, Pudong was a grimy stretch of vegetable fields, rundown factories, and decrepit housing. Then the late Deng Xiaoping designated Pudong as the capitalist center of a new China. Shanghai, whose development was long held back by suspicious cadres in Beijing, seized the chance to regain its former glory and started building feverishly.
Pudong's makeover has been breathtaking. In fact, the boom in Pudong has helped Shanghai create office space equal to that of the entire central business district of Hong Kong. New expressways crisscross the sprawling 522-square-kilometer district. One of the world's largest airports, with a soaring French-designed glass-and-girder terminal, is under construction. A mammoth stock-exchange building opened in December. General Motors Corp. is building a huge factory, Coca-Cola Co. recently opened China's biggest bottling plant there, and more than two dozen foreign banks have been persuaded to open offices.
NO TAKERS. Still, that's not enough to fill the empty space. For example, Shanghai Lujiazui Finance & Trade Zone Development Co., China's largest property developer, did not lease a single piece of land in the second half of 1997 and saw earnings plunge 66%.
Despite bureaucrats' stated resolve, Shanghai's strategy for ending the crisis isn't clear. Vice-Mayor Zhou promises "financial and credit policies to solve problems in the real estate sector," such as cutting lending to developers and turning some office projects into housing. Zhou is also studying the example of the Resolution Trust Corp., which cleaned up the U.S. savings and loan mess by seizing and auctioning distressed properties.
Some Chinese banks want bolder action. Several have hired McKinsey & Co. to advise them on property write-offs. Executives of Industrial & Commercial Bank of China and Shanghai Pudong Development Bank say that their institutions will start forcing deadbeat developers to sell or rent properties, even at a loss, to generate cash flow.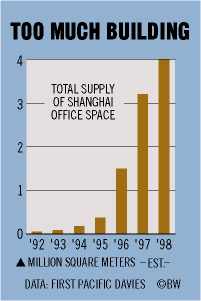 But in the end, the market may force an even more brutal resolution to the bubble. "A lot of those buildings will be torn down eventually," predicts J. Mark Mobius, manager of Templeton Emerging Markets Fund. And this from someone who is a bull on Pudong: Templeton recently bought an entire floor in the Shanghai Stock Exchange building and, says Mobius, still believes the city has a bright future as China's financial capital. But Pudong's real glory days may still be a decade away. Until then, it has painful lessons to learn about coping when a boom turns to bust.
Before it's here, it's on the Bloomberg Terminal.
LEARN MORE