Poland's Jews Step Into The Light...And Dream Of Their Own Museum
Peggy Simpson
Eight years ago, Bogna Pawlisz met a Polish Catholic who said flatly that Poles disliked Jews. Pawlisz had grown up an atheist and had never met a religious Jew, but the encounter so disturbed her that she decided to become one. Her grandmother was a Jewish communist, her father a secular Jew and Solidarity activist. Today, the 25-year-old Pawlisz studies Yiddish, works closely with Rabbi Michael Schudrich of New York, and plans to put her monthly newsletter Jidele (meaning "young Jew," once used as an epithet) on the Internet. She is irritated when the Western media paint Poland as a graveyard for Jews: "All Jews should remember about Auschwitz. But to show only Auschwitz is to say that Hitler wins."
Pawlisz' spiritual odyssey forms part of the dramatic rebirth of a grassroots Jewish community in Poland. Even the numbers are being drastically revised: Rather than having 4,000 Jewish residents, as outsiders often assert, Poland may have as many as 40,000 with at least one Jewish parent, says Schudrich. Some had been indifferent to their heritage or fearful of publicly identifying themselves as Jews. Others discover on the death of "parents" that they were born Jewish but were war orphans taken in by Catholics.
Many in both categories seek out Rabbi Schudrich, who heads the Ronald S. Lauder Foundation here. In 1988, the foundation launched a summer youth camp, the first of many ventures for Jews who want to end their isolation. No one knew how many might come forward, recalls Lauder, a businessman and son of the Estee Lauder Inc. cosmetics founder. "But the program is growing by leaps and bounds," with summer camps for 550, a Warsaw kindergarten and primary school for 125, youth clubs in five cities, and reconstituted Jewish community associations. Synagogues, schools, cemeteries, and other communal property nationalized and closed by the communists are being returned under a 1997 law.
PRIESTLY DEBATE. Polish Jews and Catholics had begun groundbreaking cooperative ventures even before the Vatican's March "act of repentance" statement on the Catholic Church's behavior during the Holocaust. A bitter controversy over religious symbols outside the Auschwitz-Birkenau Nazi death camps, near the Polish village of Oswiecim, was resolved last December by an accord removing Christian and Jewish symbols from a 500-meter strip around the camps. The accord had two key strategists: Miles Lerman of New York, chairman of the U.S. Holocaust Memorial Council, and former Auschwitz prisoner and Solidarity Senator Wladyslaw Bartoszewski. It will pave the way for a $45 million preservation of the ruins.
All this is playing out against a high-voltage debate between Catholic priests on anti-Semitism past and present. Church leaders suspended for a year Gdansk Solidarity priest Henryk Jankowski after he warned on Oct. 26 against selecting Bronislaw Geremek as Foreign Minister and said: "One cannot tolerate a Jewish minority in the Polish government because the nation is afraid of it." Jesuit priest Stanislaw Musial responded in a liberal Catholic newspaper, Tygodnik Powszechny, by equating Jankowski with Hitler. Warsaw priest Waldemar Chrostowski then accused Musial of demagoguery.
Grazyna Pawlak is a slight woman with an intense passion: to build a museum that will show the rich 1,000-year history of Jews in Poland. The city of Warsaw has donated a $2 million plot of land, the Polish government $75,000 for planning--and researchers in several nations are working on the details. Support for the $50 million project comes from all major political camps in Poland.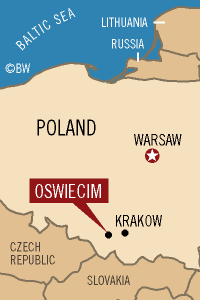 The museum is seen as important for Poles and tourists alike. Under communism, says Eva Hoffman--author of Shtetl, about six centuries of Jews and Poles in Bransk--"the whole subject of Jews was a forbidden topic." Textbooks and existing museums reflect that censorship. The museum also would be a magnet for the 10,000 Israeli students who visit Nazi death camps each spring--and shun the emerging Polish Jewish communities. "Jews choosing to live here are seen as fools at best or frauds at worst," says Konstanty Gebert, founder of a new Jewish political-literary monthly, Midrasz ("insights"). A museum, by illuminating the past, could help change the present.
Before it's here, it's on the Bloomberg Terminal.
LEARN MORE