Motorola Girds For A Shakeup
Top brass mull an overhaul to get it back on track
by
A year ago, with his company slipping from its perch atop the wireless industry, Motorola CEO Christopher B. Galvin tried to mobilize the troops. He issued a memo demanding companywide sales and earnings growth of 15% to 20% a year. The goal, however, is still a long way off. Motorola's 1997 sales improved a lackluster 6.5% over the year before, and the company has repeatedly failed to meet Wall Street's expectations. "That sends a pretty strong signal to investors that Motorola doesn't have everything under control," says one Chicago-based institutional investor.
To get the company back on track, corporate brass now plan a sweeping restructuring. The overhaul would combine disparate operations within the company's wireless business--segments that make up more than 60% of Motorola Inc.'s overall sales. Historically, cellular, paging, and two-way radio operations have existed as separate--and often warring--factions. Each unit has its own network equipment team and another group for developing the actual handset or pager operated by the end user. But within the next several weeks, the company is expected to shift all network equipment operations into one division, with the development and manufacture of the actual handsets, pagers, and radios being folded into another unit.
OUT THE DOOR. Galvin's plans may be complicated by the surprising departure of a key executive. On Apr. 1, Jack M. Scanlon, president of Motorola's cellular networks and space business, announced that he was leaving the company to run telecom startup Global Crossing Ltd. Analysts and insiders figured that Scanlon would have headed one of the two divisions that are expected to be created in the overhaul. Now, Motorola is likely to appoint Merle L. Gilmore, head of European operations, and James A. Norling, who runs Motorola's messaging segment, to lead the soon-to-be created units, insiders say.
The reorganization would address Motorola's chief problem: sluggish execution in an increasingly competitive wireless market. In March, unreliable network equipment contributed to the loss of a $500 million contract with digital cellular carrier PrimeCo Personal Communications. And the company has yet to deliver its popular StarTac phones with CDMA digital technology--a high-capacity system that is gaining popularity in the U.S.
Since taking the reins as CEO in late 1996, Galvin has labored to fix Motorola's deficiencies. Not having digital handsets caused the company's U.S. market share in cellular phones to slip from 51% in 1996 to 34% in 1997, according to wireless consultants Herschel Schosteck Associates.
The company has also lagged behind competitors in some key technologies. Motorola doesn't make its own digital switch, using instead ones that are produced by Digital Switch Corp., which, industry executives say, lack the sophistication of the equipment made by rivals Lucent Technologies Inc. and Northern Telecom Ltd. By combining the wireless network equipment segments into one unit, Motorola could potentially justify developing its own switching equipment. Such improvements would help Motorola capture more of the world's $30 billion network equipment market, where its share has dropped from 21% in 1996 to about 17% last year, according to UBS Securities Inc.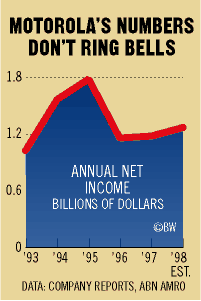 The proposed overhaul is being applauded. "I think they've recognized what customers are telling them," says Gary Cuccio, chief operating officer of Omnipoint Communications Inc. "This seems to be a first step in a genuine effort to improve their position."
Analysts agree that streamlining wireless segments could breed better internal relations and might achieve some cost savings.
But it's not a panacea. "At the end of the day, Motorola needs to execute more intensely," says ABN Amro analyst Kenneth Leon. "They need to get the products out quicker." With the whole world watching, Galvin can't afford any more false starts.
Before it's here, it's on the Bloomberg Terminal.
LEARN MORE