Is Good Marketing Bad Medicine?
Why costlier, riskier hypertension drugs are best-sellers
Catherine Arnst
In the treatment of the 50 million Americans with high blood pressure, doctors and cost-cutters line up on the same side: The cheapest antihypertension drugs have been proven in numerous long-term studies to be the safest and most effective. A panel of cardiologists assembled by the National Institutes of Health recommended in 1995 and again last November that, in the absence of other complications, the cheaper drugs should be used. So it seems a no-brainer that doctors in this health-cost-conscious age would rush to prescribe them.
But Alice seems to have stepped through the looking glass. Two new studies show that prescriptions for the cheapest drugs--beta-blockers and diuretics--declined markedly from 1992 to 1996. Meanwhile, prescriptions for the newer and more expensive calcium-channel blockers and ACE inhibitors soared. A 1995 study concluded that overuse of the newer drugs was already adding $3 billion in unnecessary expenditures to the national medical bill--and the trend is continuing.
ADS GALORE. So what do calcium-channel blockers and ACE inhibitors have that beta-blockers and diuretics lack? Marketing. In the battle for a slice of a $24 billion market, drug companies are pouring their resources into the higher-priced, higher-profit treatments. Dr. Thomas J. Wang and Dr. Randall S. Stafford of Massachusetts General Hospital reported at the March meeting of the American College of Cardiology that calcium-channel blockers are the most heavily advertised of any drug in the New England Journal of Medicine. And it is difficult, they said, to find a single ad for diuretics and beta-blockers (table).
Drugmakers are also dispatching salespeople with pockets full of free samples. "Virtually every day, my office is inundated by drug-company reps peddling their wares--usually newer, higher-priced medications," says a general practitioner in New York, who asked not to be identified. "I cannot remember ever--and I mean ever--being approached by a drug rep who was pitching [diuretics or beta-blockers]." This GP says drug reps leave behind stacks of free samples, hoping doctors will give them to patients. "Once a patient is taking a medication and it's working well, there's a disincentive to switch to another,"he says.
"PUZZLING." The cost implications are huge. A report in the December issue of the Journal of the American Medical Assn. (JAMA) estimates that the wholesale price of calcium-channel blockers, for example, is more than three times that of diuretics. "I think it's a little bit unfortunate that marketing may influence these [prescribing] trends," says Mass General's Wang. "At a time when we are trying to cut back on health-care costs, it seems a little puzzling that we'd be opting for more expensive medication that we aren't even sure is 100% safe."
In 1995, Pfizer Inc.'s Procardia, a calcium-channel blocker also known as nifedipine, was the most prescribed antihypertensive, according to market researcher PMSI Scott-Levin Inc. of Newtown, Pa.; it was the seventh-most-prescribed medication overall in the U.S. This despite the fact that studies have found that calcium-channel blockers are linked to an increased risk of heart attack and cancer--and to a high rate of suicide. In second place among people with high blood pressure was the ACE inhibitor Vasotec, or enalapril, from Merck & Co.
Hypertension drugs first arrived in the 1950s, and they have been remarkably successful. From 1972 to 1994, according to the NIH, improved therapies for hypertension reduced deaths from stroke by 59% and coronary heart disease by 53%. ACE inhibitors and calcium-channel blockers, which arrived in the 1980s, offered more convenience and fewer apparent side effects than diuretics and beta-blockers. They only need to be taken once a day, for example, while diuretics usually need to be taken three times a day and can cause frequent urination. And beta-blockers can sometimes cause fatigue and impotence and can mask signs of low blood sugar.
A decade ago, the National Institutes of Health panel recommended calcium-channel blockers along with diuretics and beta-blockers as the first line of treatment. No large-scale clinical trials had been conducted for the newer agents, so researchers did a new analysis of existing data and found that ACE inhibitors and calcium-channel blockers were no better than the older treatments at lowering blood pressure. And the newer drugs did not reduce the number of deaths.
That was enough to convince the NIH panel. In 1993, the committee changed its guidelines, recommending that beta-blockers and diuretics--not calcium-channel blockers--be considered the first line of treatment in patients who don't have such complications as diabetes or additional forms of heart disease. In November, it reconfirmed that recommendation in its sixth set of guidelines.
The change drew criticism from the makers of calcium-channel blockers. "We believe they represent an advance, and we market them based on their safety and efficacy," said Andrew McCormick, a Pfizer spokesman. The questions over the safety of calcium-channel blockers will not be resolved with any certainty until 2002, with the completion of a large federal trial comparing various hypertension drugs.
In the meantime, doctors seem determined to stay with the new over the tried and true. In the December JAMA study, a team of California researchers reported that in 1995, calcium-channel blockers and ACE inhibitors made up 71% of all hypertension prescriptions filled by retail drugstores. Beta-blockers and diuretics totaled only 18%. "The role of pharmaceutical promotion practices, including both face-to-face sales activities and pharmaceutical advertisements, probably has had the greatest impact" on prescribing trends, the researchers said.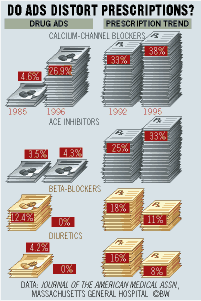 CALLING ALL GPs. The NIH panel frets that its message on appropriate treatment is just not getting out to the physicians who should be heeding them. Only 53% of patients diagnosed with hypertension receive any kind of treatment. Of those who are treated, most are seen by general practitioners, says Dr. Thomas A. Pearson, chairman of the department of community and preventive medicine at the University of Rochester.
According to the Massachusetts General study, general practitioners are the least likely to prescribe beta-blockers. For these doctors especially, drug companies are a potent source of information, Pearson says. Perhaps managed-care organizations should invest part of their profits in some education of their own.
Before it's here, it's on the Bloomberg Terminal.
LEARN MORE