How The `Pc Killer' Was Humbled
Slow machines and cheap rivals undercut network computers
Robert D. Hof
When Otto K. Folprecht first heard about slimmed-down desktop machines called network computers (NCs) two years ago, he was jazzed. The information-systems manager at steel-products maker Tree Island Industries Ltd. in Vancouver, B.C., hoped to slash his computing costs 30% by replacing as many as 400 PCs with simpler, cheaper machines from Sun Microsystems Inc. But after more than a year's delay, he ditched Sun and bought terminals running Microsoft Corp.'s Windows programs off a central computer. Says Folprecht: "I would have hoped for something from Sun a lot sooner."
JAVA BUGS. So had a lot of others. Now, even though Sun finally shipped its $699 JavaStation NC on Mar. 24, the NC's future looks grim. For a device that Oracle Corp. CEO Lawrence J. Ellison extolled as a PC killer when he conceived it in October, 1995, the dive is breathtaking. Market researcher Dataquest Inc. estimates that 144,000 NCs were sold last year, way off its 400,000 original forecast.
High-profile backers such as Federal Express Corp. have delayed or scrapped plans to use NCs. Some, such as Wyse Technology Inc., gave up and switched to making Windows-based terminals. Oracle's Network Computer Inc. unit, which designed the original NCs, laid off 15% of its 200 employees in December and replaced its CEO in February. The rest, including Sun and IBM, sell NCs largely to replace cheap terminals.
What went wrong? Almost everything. For one, Ellison promised too much too soon. He predicted that NCs would quickly supplant PCs. The idea behind NCs: They would run "applets"--small programs based on Sun's Java network software--that are downloaded on demand from a central server computer. That way, a network computer wouldn't need a disk drive or the manual software upgrades that drive up the price and maintenance costs of PCs. Yet unlike a terminal, which simply displays programs run on a server, NCs have enough horsepower to run applets themselves.
Problem was, because Java was so new, it wasn't ready to do all the tasks customers wanted. Early programs ran slowly and required machines with lots of memory chips--not so slim after all. And companies weren't itching to change software. "We want the Windows applications," insists Timothy T. Albrecht, information-systems manager at industrial-supplies distributor Fastenal Co. in Winona, Minn., which is using Windows terminals.
The biggest blow to NCs, though, was dealt by the PC crowd. Last year, computer prices sank 40%, to $1,169 on average, with some PCs edging below $1,000--smack into NC territory. Meanwhile, Microsoft and Intel Corp., after initially deriding the NC concept, jumped in with promises of cheaper, more flexible ways to manage PCs. In June, Microsoft plans to ship Windows Terminal Server, which will let terminals and PCs run Windows programs from a server. Analysts estimate that the overall cost of a Windows terminal is 25% less than a Windows PC--including maintenance costs--and close to the 30% savings on an NC.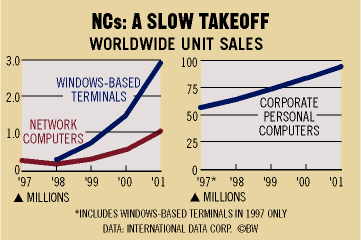 The one bright spot in network computers: IBM. In the past year, Big Blue has shipped 100,000 NCs to 3,000 customers including Allstate Corp., which is considering buying as many as 40,000 NCs. IBM's success stems from being one of the first to offer NCs running either Windows or Java programs. Still, with 20% gross margins, they're hardly profit engines. "We got an incredible deal from them," says John Cabral, network manager at Foxwoods Resort Casino in Ledyard, Conn., which is using 650 NCs for jobs like scheduling employees.
Indeed, NC makers may have done little more than goad PC makers into dropping prices. While that's great for buyers, it's cold comfort for NC makers that had hoped to change the computing world.
Before it's here, it's on the Bloomberg Terminal.
LEARN MORE