How Mexico Is Holding Off Asia's Assault
So far, Mexican exporters are proving themselves worthy warriors, using close U.S. ties to lock in deals
Elisabeth Malkin
In the wake of Asia's crisis, pessimists painted a gloomy scenario for Mexico. Asian countries, exporting their way out of recession, flood the U.S. market with cheap goods and grab vital market share from Mexican products. Mexico's three-year export boom fizzles, putting its vulnerable economy in a severe bind.
Well, guess again. Mexican exporters are holding their own north of the border, and even making gains. Sales to the U.S., which takes more than three-fourths of all Mexican exports, rose to $7 billion in January, up 12.6% over the same month in 1997. The Asian crisis, it turns out, is the crucial test that's highlighting Mexico's spectacular export performance under the four-year-old North American Free Trade Agreement (chart).
HARDLY A RIPPLE. What the trade deal has locked in place is a hard-to-beat pattern of North American production in which Mexico provides not just cheap labor but also speedy delivery and low transport costs to its giant neighboring market. "NAFTA has created durable, long-term relationships between Mexican exporters and U.S. buyers," says Mexican Trade Secretary Herminio Blanco. "They can resist short-term effects like the competitiveness of a devaluation" in Asian countries.
Proof of that can be found in Guadalajara, the country's second-largest city and home to what boosters call Mexico's Silicon Valley. At first glance, its electronics and electrical equipment makers would seem to be prime candidates for battering by head-on competition from Asians. But with hardly a ripple so far from the Asian crisis, multinational companies there are charging ahead. California-based Hewlett-Packard Co., for example, is shifting contract work to Guadalajara from manufacturers in Asia to supply the U.S. "The market has regionalized into Asia, Europe, and America," says Jaime Reyes, director of HP de Mexico's manufacturing and design center in Guadalajara. "The base of suppliers here in Guadalajara gives us long-term security." HP expects exports to the U.S. of its scanners, printers, and all-in-one copiers to reach $400 million this year, up at least 25% from 1997.
The same goes for IBM de Mexico, which is pushing its Asian suppliers to set up joint ventures in Guadalajara. "We reduce the cost by producing in Mexico, and we eliminate inventories," says Alfonso Alva, director of IBM's Guadalajara plant, which assembles laptops, desktops, and hard drives. "They supply us the next day." Philips Consumer Communications, which employs 7,300 in its Guadalajara plant, exported telephones, answering machines, and pagers worth $274 million in 1997 and expects a new line of phones to lift sales to $617 million this year.
While Mexican exporters are looking strong so far, increased inroads by Asians can't be ruled out. A recent study by the Institute of International Finance, a Washington-based research arm of the U.S. banking industry, estimates that the Asian crisis could cost Mexico as much as $5 billion of its exports to the U.S., which totaled $86 billion last year. But even the study notes that the credit crunch in Asia and Mexico's close ties to the U.S. will make it difficult for Asian producers to take business from the Mexicans.
A key insulator for Mexico against competition from the Asians, says Gray Newman, chief Latin economist for hsbc Securities Inc. in New York, is the vast network of almost 3,000 assembly plants, known as maquiladoras, that exported goods worth $41 billion last year, mostly to the U.S. Maquiladora products "are an integral part of the manufacturing process" in North America, he says.
An example is Elamex, a contract manufacturer in the border city of Ciudad Juarez, which shipped $132 million in electrical parts for a range of products to the U.S. last year. "Our response to engineering changes has to be very quick," says Treasurer Jorge Torres. "We try to operate as though the border doesn't exist." Long-term contracts, which are essential to the business, depend on Elamex' closeness to U.S. customers, who can fly engineers down quickly to make changes. "It's almost a domestic flight," Torres says.
The maquiladora system also shields the huge consumer-electronics industry along the U.S. border. Last year, Mexico exported $3 billion in television sets. "When you take into account the freight costs, we're still very competitive" against Asia, says Juan Manuel Hernandez, comptroller of Tijuana-based Sony Mexico Manufacturing Center, which shipped $1 billion worth of tv sets and other products to the U.S. last year.
Even more insulated from Asian competition is the auto industry. Passenger-car exports to the U.S., worth $8.2 billion last year, have overtaken oil as the leading export north of the border. At Sanluis Corp., which supplies suspension components to Detroit auto makers, executives are unconcerned about Asia. Sanluis gets a boost from NAFTA, which allows duty-free exports within the bloc if at least 50% of a car's components are made in the three NAFTA countries.
But Sanluis isn't counting just on NAFTA to see it through the Asian crisis, says Hector Amador, director of investor relations. "The Big Three don't want inventories," says Amador. "You're practically supplying by the day." That's easy from Mexico, but Asians would need to invest in large warehouses near North American auto plants if they want to ship from across the Pacific. And because auto makers require all their suppliers to North America to get a special quality certification, even suppliers to Big Three plants in Asia can't easily start shipping to Detroit.
Now, Mexican producers are challenging Asia's longtime strength in textiles and even garment-making, despite Asian products' advantage from labor costs even cheaper than Mexico's. By eliminating quotas for garments produced with North American fabric, NAFTA has turned Mexico into the world's leading exporter of clothing to the U.S. That's why Salvador Lozano is unruffled by the threat of Asian competition. "The whole industry has been reconfigured," says Lozano, planning director at Compania Industrial de Parras, which sold $108 million worth of denim in the U.S. last year. "We're so close to the customer. We can fill deliveries. We know the market." The pricing pressure he's beginning to feel from Asia is not a serious worry because Parras keeps opening market niches with trendy fabrics.
Even where Mexico is weak against Asian competition, gung-ho entrepreneurs believe they can take on the Asians. "We're not competing on price," says Roberto Solis, a shoe manufacturer in Leon, in central Mexico. He's setting up a partnership of manufacturers to produce shoes for U.S. companies. Buyers would only wait four weeks for delivery, rather than three months or more from Asia. "Shoe importers waste a lot of time and resources on transportation, shoe storage, and discounting their leftover inventory," says Solis. "If they manufacture closer to home, those costs will be lower."
BEYOND NAFTA. Still, Mexican exporters are wary of being overconfident. Already, customers are beginning to use the threat of Asian competition to squeeze prices. A Japanese buyer recently warned Samsung executives in Tijuana that he could buy speakers more cheaply in Malaysia. "We have to work hard to improve our productivity," says Young M. Kwon, who is president of Samsung Electro-Mechanics America. "There's a lot of pressure to get costs down." And some analysts say competition could heat up later, especially in areas where Asian countries have a technology edge.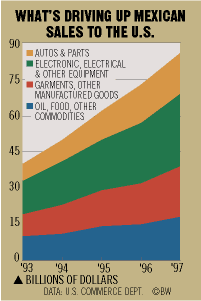 But even the pessimists can't write off Mexico's newfound export power. The next step: turn the country's manufacturing strength to markets beyond NAFTA, lessening Mexico's dependence on the U.S. Ignacio Rivero's small specialty chemical manufacturing company, Tekchem, buys raw materials in the U.S. and sells to European as well as U.S. customers. When Mexico started lowering import barriers in the 1980s, "everybody was in great difficulty," recalls Rivero. "We had never competed internationally." Now, he says, the story is different: "We have learned to be efficient." It has taken a crisis on the other side of the world to prove him right.
Before it's here, it's on the Bloomberg Terminal.
LEARN MORE