Germany: Plodding Along Toward Recovery
By
The tortoise-like recuperation in Germany continues to crawl along, with the latest signs suggesting that Asia is crimping growth but not crippling it.
Exports fueled Germany's real gross domestic product to a 2.3% gain for all of 1997. But the Asian crisis is causing some fear among businesses: The IFO Institute's business confidence index fell again in February, the fourth drop in the past five months (chart). Asia's effect, however, is less clear in other data. Machine orders, for example, rose 14% in February from a year ago, with export demand surging 24%. Domestic orders were up only 2%, raising fears that the capital-spending boom may be losing steam. Even so, first-quarter real GDP likely grew at a quarterly rate of about 0.8%. The strength reflects a rebound after the fourth quarter's anemic 0.3% gain and unseasonably warm weather that lifted retailing and construction.
In coming quarters, the labor markets, not weather, will guide domestic demand. Unemployment is dropping a bit this year after the pan-German jobless rate hit a record 11.8% in the fourth quarter. Job vacancies are up, which could be supporting the rise in consumer confidence. And unions are beginning to approve concessions in order to avoid job cuts. Germany's 3.2 million public workers accepted pay raises about equal to the inflation rate in return for some job stability.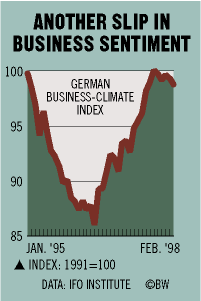 Overall, inflation remains tame. Consumer prices rose just 1.1% in the year ended February, thanks in part to falling oil costs. Core prices, which exclude food, fuel, and administered costs, show a small uptrend, but not enough to worry the Bundesbank. Instead, the Buba is focusing on the European Monetary Union and the stability of the euro. In order for European interest rates to converge by May, the Buba is expected to keep its rates unchanged.
The Buba is worried about the mark's fall vs. the British pound, although the slide may help exports to the rest of Europe. At the same time, domestic demand looks healthy enough to keep the slow-but-steady upturn going.
Before it's here, it's on the Bloomberg Terminal.
LEARN MORE