Where The Ghosts Of War Are Rising...And May Bring Down A Governor
Andrea Mandel-Campbell
The jungles enveloping Tucuman have earned the tiny northern province renown as the "Garden of the Republic." But the lush green heights that surround its colonial capital of San Miguel de Tucuman were home to leftist guerrillas during the 1970s, making the hills a focal point for the military's war against subversion. As a result, Tucuman claims the highest proportion of "disappeared" people in Argentina: Estimates range from 700 to 3,000 killed out of a population of 1.3 million. And now that the debate over Argentina's "dirty war" is flaring again, the ghosts of those terrible years seem almost palpable.
In fact, they're haunting the governor's palace, where General Antonio Domingo Bussi is facing possible impeachment. Bussi, 72, was elected governor in 1995. In February, investigators revealed that from 1985 to 1996, he held a Swiss bank account that was never disclosed to the authorities, as is required. The discovery is the latest in a series of scandals that have revealed bitter divisions over the war, which killed an estimated 9,000 to 30,000 people. "There has been a lot of impunity, and this is the outstanding debt that Argentine society still has owing," says Alfredo Neme Scheij, Tucuman's representative in the national Congress for the Radical Civic Union opposition party.
The debt is particularly high in Tucuman. During the height of the repression, from 1976 to 1977, Bussi served as military and political leader in the province. But unlike many of the most infamous soldiers, who faded into the shadows after being pardoned for abuses under general amnesty laws, Bussi went back to his old stomping grounds. In 1993, he was elected to Congress, a stepping-stone to the governorship.
RITZY. Backed by security forces, sugar cane barons, and the conservative upper classes, the gun-toting general is the "iron hand" that the turbulent semi-feudal province needs, say supporters. But his critics now have lots of ammunition. The Swiss bank account held in the neighborhood of $150,000, say sources close to him. That's nothing compared to some dozen apartments, valued at as much as $400,000 each, he was discovered to own in ritzy parts of Buenos Aires.
Bussi says he saved his military earnings and then ran an import-export business--which lost money, say opposition members of Congress--but Argentines have their suspicions where he got his wealth. Many stories are surfacing of families forced to pay ransoms for relatives and of property stolen from the disappeared. Tucuman alone has paid $4 million in compensation for land expropriated during the 1976-83 dictatorship. According to Bussi, however, it's all a conspiracy. A weeping governor told crowds on Feb. 16 that he is being pursued by "sworn enemies from the left--nothing but a pack of renegades, street trash, and cockroaches."
Despite death threats and beatings from police, opposition politicians aren't backing down. It's all part of a national wave of outrage touched off by a presidential decree in January to demolish a former military concentration camp in Buenos Aires and replace it with a park. Heavy protest stalled the project, and human rights groups have taken to "outing" known torturers and assassins. Fifteen years after the dictatorship ended, many Argentines feel it's time to settle up.
Still, some Tucumanos feel they could do a lot worse than Bussi. One of the poorest regions of the country, the province has been racked by incompetent governments unable to pay public employees for months and forced to issue "bonds" to pay salaries. For the first time they can remember, government workers are receiving a regular paycheck. Bussi has launched public works projects, and the economy, thanks to the liberalizing of the Argentine market and a booming local citrus trade, is growing. "He has done things for this province like no one else has," says laborer Norberto Lopez. "Nobody's perfect."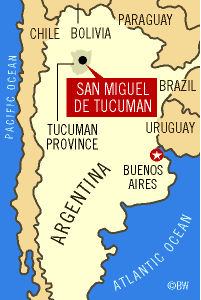 Bussi certainly isn't. During his two years in office, he has had to fire three ministers over corruption charges, and his deficit spending has doubled the provincial debt, to $1.2 billion. In February, Tucuman's many creditors placed a lien on federal payments before they reached provincial coffers, requiring the province to take out yet another loan to cover March's public wages. A military honor tribunal has already judged Bussi's actions a "serious offence," and a legislative commission is contemplating impeachment. Until the general and others accused of human rights abuses are called to account, rage will continue to boil in Argentina.
Before it's here, it's on the Bloomberg Terminal.
LEARN MORE