U.S.: Symptoms Of The Asian Flu Are Showing Up
Trade and inventory buildup are flagging, and that can crimp growth
by
Happy Birthday: The economic expansion of the 1990s turned seven in March. By historical standards, that's retirement age, but this upturn still retains much of the vigor and bright prospects of its youth. Domestic demand is resilient, and the financial markets are booming, as low inflation keeps the Federal Reserve on the sidelines.
But as the expansion begins its eighth year, at least two areas are crucial to the outlook: foreign trade and inventories. Their swings can be volatile, and they can substantially influence overall growth. In the fourth quarter of 1997, for example, a huge inventory buildup added nearly 1 1/2 percentage points to real gross domestic product growth. And in the first quarter, the trade deficit widened sharply, possibly subtracting as much as two percentage points from GDP growth.
In fact, both trade and inventories appear to have been drags on first-quarter economic growth. The trade deficit is worsening partly because of Asian weakness but also because of a quirk in the data. In addition, businesses are adding more slowly to their inventories than they did in the fourth quarter, as Asia's slump has slowed the pace of manufacturers' orders (chart).
Even so, the stellar performance of U.S. consumer spending and housing, buoyed by rising buying power, good job prospects, and low interest rates, suggests that overall GDP grew about 3% in the first quarter. In fact, sales of existing single-family homes soared 8.7% in February, to a record annual rate of 4.75 million. At the same time, inflation remains tame. But amid such strong domestic demand, the latest data on consumer prices suggest keeping a wary eye on service inflation, which is largely immune to the Asian flu.
EXPORTS, IMPORTS, and manufacturing may have a case of it, though. Foreign trade began 1998 flat on its back. The January deficit for goods and services widened to a larger-than-expected $12 billion, from $10.9 billion in December. Imports slipped 1%, to $89.3 billion, but exports fell by a bigger 2.6% to $72.3 billion.
However, the January trade data require a careful reading. First, the export drop was exaggerated. Fewer shipments of aircraft, mainly from Boeing Co., accounted for 85% of the goods decline. Boeing delivered 16 planes to non-U.S. markets in January, down from 26 in December. But Asia was not a factor. Two Asia-bound planes were delayed but will be shipped later, the company said, and the rest of the decline was in line with normal monthly swings.
Aircraft shipments in the first two months of a quarter are often lower than those in the final month, Boeing says. Indeed, February foreign shipments dipped to 14 planes. But based on Boeing's overall first-quarter goal, March shipments probably picked up.
To be sure, export growth has slowed--even services. Exports such as finance, tourism, and royalty fees are expanding more slowly than they did a year ago (chart). While service exports are not reported by region, a chunk of the slowdown likely can be traced to Asia. Still, the falloff in exports to the Pacific Rim countries is not as dramatic as the latest data suggest.
FOR EXAMPLE, SHIPMENTS of goods to the region, including Japan, China, and Australia, as well as the newly industrializing nations, plunged 12.9% in January from December. But that's similar to the trend of the previous five Januarys--before the crisis--when exports fell by an average of nearly 10%. The Commerce Dept. does not seasonally adjust the regional data, but BUSINESS WEEK's adjustment found that January exports to the Pacific Rim fell about 3%.
But even the overall data, which Commerce does seasonally adjust, may not tell the real story. In each of the last five years, net exports--the trade balance figure used in the GDP data--have narrowed in the fourth quarter, only to widen in the first quarter by an average of $17 billion, despite Commerce's efforts to adjust for such recurring patterns. That's equivalent to a percentage point of GDP growth. The sharply wider January gap suggests that the trend continued in 1998.
The dollar value of exports has also been held down by declining export prices, which fell 0.7% in January and 0.2% in February. In the three months through January, exports of goods increased 9% from the year before, but after price adjustments, the volume of shipments was up 15%. The steadily rising dollar should be making U.S. goods more expensive in foreign markets, but it appears that U.S. businesses are cutting prices in order to remain competitive, even if it means taking a hit to the bottom line.
Data quirks aside, it is clear that Asia's problems are now hitting U.S. manufacturers, who are rethinking production schedules. New orders for durable goods fell 1.7% in February, and first-quarter orders are running below their fourth-quarter average. February unfilled orders also fell, but they are still at a high level, suggesting that there is enough demand for U.S. goods to buoy output. Businesses are also adjusting their inventory levels. After the big runup in stockpiles in the fourth quarter, companies did not add to their inventories at all in January. And any gains in coming months are likely to be small. Slower inventory accumulation will subtract from GDP growth.
THE FOREIGN SECTOR is also having an impact on the inflation outlook. In February, consumer prices for all goods and services rose 0.1%, and they are up just 1.4% from the year before. A 2.2% drop in energy prices offset increases in other sectors. But even excluding energy and food costs, the core index has risen 2.3% over the past 12 months.
Falling import prices are one reason for the inflation slowdown. In the year through February, prices of imported goods have dropped 6.1%, led by the plunge in oil prices. Moreover, the drop in prices of Asian goods is becoming steeper. The Asian-related deflation in prices of oil and other commodities will help to hold down goods inflation in coming months.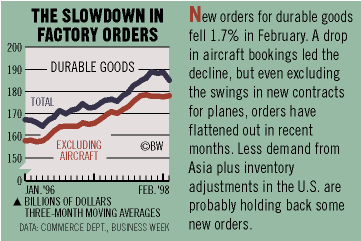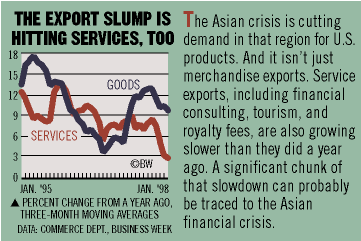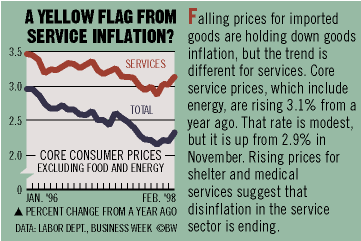 The outlook for service inflation, though, is a bit different. In February, core service prices rose 0.3% from January and 3.1% from a year ago. That rate is pretty modest, but it is up from 2.9% in November after a steady decline (chart). Bigger increases in the cost of shelter plus an upturn in medical services may be signaling that the disinflation in services is ending. And because service wages are rising 4.1% so far in the first quarter, service companies will probably feel more pressure to raise prices.
Any upturn in service inflation will not be dramatic or quick. And as long as lower goods inflation offsets some of the increase on the service side, overall core inflation will remain below 3% this year, although above 1997's 2.2%. Indeed, given the expansion's age and the current strength of domestic demand, inflation's remarkable quiescence will be difficult to maintain.
Before it's here, it's on the Bloomberg Terminal.
LEARN MORE