The Earth Is Shifting Under Heavy Equipment
Cheap machines back from Asia could sink U.S. dealers
De'Ann Weimer
Only a year ago, Triad Machinery, a construction-equipment dealership in Seattle, was riding the crest of the country's economic boom. Sales of construction and farm equipment were soaring.
Today, domestic demand for those same tractors, backhoes, and excavators is still strong. But Triad and other equipment dealers are bracing for a tidal wave that could sweep away their profits for the next two years--a flood of "gray-market" goods washing ashore from recession-stricken Asia. Builders in places such as Malaysia and Japan have halted projects, and now the machines they ordered--and usually have never used--are coming back into the U.S. market for sale at prices sometimes 50% off list.
The result is that customers who might have been kicking the tracks on one of Triad's Link-Belt excavators are bargaining instead on barely used equipment arriving at U.S. ports from Asia. "It's like watching a tsunami build and not being able to do anything about it," says Triad branch manager Michael Coogan, who first noticed the uptick in gray-market products back in September.
DESPERATE DAYS. The deals are lush. Some gray-market equipment is selling for as little as 60% of what U.S. dealers pay wholesale. Excavating contractors in the Chicago area say prices are so low for equipment coming into ports in Washington and Oregon that it's easy to justify paying an additional $2,000 in transportation costs to ship the equipment to the Midwest. No warranty? No problem. At these prices, the machines can be rebuilt once and still be cheaper than a new machine, says one purchaser who asked not to be identified for fear of spoiling relations with dealers.
For their part, manufacturers such as Caterpillar, Deere, and even Komatsu America--which is threatened by these imports as well--say only that the gray market is on their "radar screen." However, they may not escape the fallout. In February, analyst John E. McGinty of Credit Suisse First Boston downgraded Cat stock and predicted that "gray iron" will take over half of the 1998 excavator market. Such inroads could represent well over $1 billion in sales.
And the gray market isn't limited to excavators. Tractors and backhoe loaders are beginning to appear on the docks, too. In a survey by the Associated Equipment Distributors, a trade group, 40% of the nation's heavy-equipment dealers reported that they are competing head-to-head with gray-market brokers--who include auction houses, entrepreneurs, and used equipment dealers. "It isn't staying confined to the West Coast," says Frank Manfredi, an industry consultant in Mundelein, Ill. At the Port of Baltimore, inbound shipments of used excavators have jumped from almost nothing to 148 tons between September and January.
Meanwhile, dealers are scrambling to craft a strategy to fight back. They're appealing to manufacturers to lower their prices to give dealers a chance to defend their market share. And they're launching advertising campaigns extolling the loyalty between customers and the dealerships that they've dealt with for years.
CRUNCH TIME. On Mar. 25, members of the AED met in Virginia to refine strategies for fighting back. "My first inclination was to say, `Let's buy the equipment ourselves and to hell with the manufacturers,"' says Anthony I. Obadal, the AED's general counsel. However, he says that concerns about getting stuck with equipment that violated federal safety and emissions standards--typical of machinery built in or for overseas markets--prompted the dealers to abandon that option. Instead, the AED decided to urge Congress to support stricter enforcement of such federal standards by imposing hefty new fines against violators.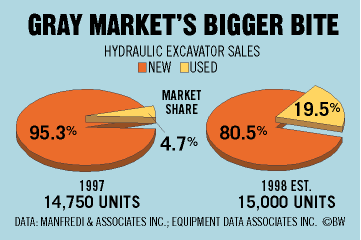 Can the dealers move fast enough to turn the tide? March is the beginning of the six-month selling season. During this period, about 75% of annual equipment purchases will be made. Meanwhile, some $2 billion in earth-moving machines could be arriving from across the Pacific, according to gray-market broker Michael Zinman of New York. "Coming right now, $2 billion on the market could collapse it," he says. In the end, the only real option for dealers and manufacturers may be to wait--at least until the supply from Asia is exhausted or Asia needs the equipment again.
Before it's here, it's on the Bloomberg Terminal.
LEARN MORE