Microsoft: Let's Not Get Carried Away
Sure, earnings are up--but growth won't come as easily in '98
Steve Hamm
These days, when Wall Street gets a surprise from the high-tech sector, it's usually a nasty one--another warning of disappointing earnings from a computer maker struggling to turn a profit on sub-$1,000 PCs or a diskmaker with inventory woes. No wonder that an upside surprise from Microsoft Corp. on Mar. 24 sent the software giant's shares soaring nearly 4 points to a record 88 13/16. Sales are so strong that the company issued a heads-up: Its earnings will beat analysts' expectations by 4 cents a share this quarter.
This will make it even harder for Microsoft to get analysts to pay attention to the other part of the message--the part about how sustaining such strong growth won't be easy. The company has warned repeatedly that its growth must inevitably slow. But just as routinely, Microsoft has continued to rack up double-digit gains. Sure enough, on Mar. 24, Chief Financial Officer Greg Maffei warned that the future doesn't necessarily look so rosy.
But this time, the warning may be apt. For starters, worldwide growth in PC shipments is slowing. More important, Microsoft faces uncertainty about the prospects for Windows 98, its only major product launch this year, and growing pressure from PC makers to lower prices. Most analysts agree with Maffei that, despite a massive Win98 marketing campaign that will begin in April, Microsoft won't head into a major new growth spurt until Windows NT 5.0, aimed at businesses, rolls out in early 1999. Michael Kwatinetz of Deutsche Morgan Grenfell Inc. has added only $200 million to $300 million to his revenue forecast over the next year for Windows 98 upgrades, which are expected to ship in June. That compares with a $1.5 billion revenue boost the company got from Windows 95.
What gives? As Maffei notes, Windows 98 doesn't offer the attractions for consumers that Windows 95 did--a whole new look and major improvements in speed. Win98's main draws are integration of Microsoft Internet Explorer, which most consumers get already, and some new hardware-support features. "I don't see there's a huge, obvious marketing feature for consumers here," Maffei says.
Then there's the bruising price war in PCs. While Microsoft and other software makers are thriving, the average price for a consumer PC has dropped 36% in the past year. Microsoft has kept the price that PC makers pay for Windows steady in the low $40s, according to analysts.
PC makers are lobbying for relief. "The margins have to be rebalanced," says Stan Shih, chairman of Acer Group Ltd. So far, however, there's no sign that Microsoft will go along. Says Maffei: "They're asking for price cuts? Sure. They ask for cuts all the time. But we believe Windows provides a lot of value for them." Still, Microsoft has decided not to raise the price when it switches over to Win98.
Then there's the question that won't go away: Will the Justice Dept. halt shipments of Win98? Trustbusters might file an injunction to interrupt the product's shipment and force Microsoft to offer a browser-free Win98.
Meanwhile, Microsoft is hell-bent on shipping Win98 on time, if not early. On Mar. 16, it briefed PC makers and retailers on its game plan--including a May 18 target for sending the product to PC makers, according to a PC company source. As recently as February, Microsoft would promise only that Win98 would get to PC makers before the end of June. PC makers could be shipping by mid-June, and retail versions should be in stores by the end of that month.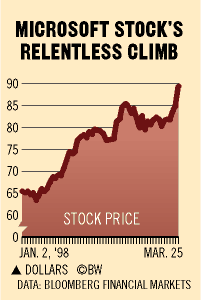 AT THE MOVIES. Windows 98 marketing kicks off in earnest on Apr. 4--at a theater near you. The company has rented 38 movie houses from Normal, Ill., to Las Vegas for two-hour live broadcasts of demos of Win98 and other products. The audience: some 40,000 "consumer enthusiasts"--buyers who are likely to upgrade immediately and get friends and family to follow. "They're really the opinion leaders," says Ken Schneider, marketing director for Microsoft's consumer sales unit. Microsoft also will plug Win98 at its monthly "Family Technology Night" events at elementary schools around the country.
The formal marketing program is likely to stress co-marketing deals with peripherals makers: Easy connections via the so-called universal serial bus is one of Win98's most pluggable features.
By June, Microsoft's marketing engine will be at full roar--if Justice doesn't spoil the party. So by the time Microsoft brings in analysts for their annual summer briefing, we'll know whether Maffei was right, for once, when he warned investors to worry.
Before it's here, it's on the Bloomberg Terminal.
LEARN MORE