Is Citicorp Eyeing Paymentech?
By
The rising tide hasn't lifted all stocks. Some have gone south, like Paymentech (PTI), the nation's third-largest processor of merchant credit-card transactions. Its shares have been on the ropes since it disappointed the Street last year with lower-than-expected fiscal fourth-quarter earnings. Up as high as 34 in mid-June, the stock fell as low as 12 in late December. But it's now rebounding, snapping back to more than 17 a share on Mar. 24.
Most analysts are still skeptical, but at least one--Gregory Gould of Goldman Sachs, has raised his rating from "market perform" to "market outperform."
That doesn't seem like a significant upgrade, but some big investors argue there's another reason to be upbeat on the stock: whispers that the company is being shopped.
These pros say Banc One, which owns a 57% stake in Paymentech, plans to sell its holdings. The bank ended up with a big slice of the stock when it acquired Paymentech's parent, First USA, in June, 1997. Banc One officials, say some analysts, have said they plan to unload the Paymentech shares at some point. A spokesman says in order to maintain the pooling-of-interest nature of the acquisition, Banc One has to keep its stake for two years after the closing of the deal. But that does not preclude a sale prior to June, 1999.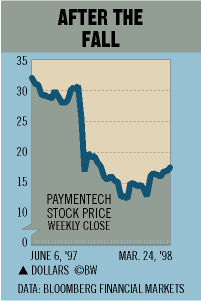 Whispers are that Banc One is talking with Citicorp and at least one other financial institution to unload the block. One New York money adviser recalls that Citicorp officials had privately expressed interest in buying Paymentech when it was still part of First USA. Paymentech, called First USA Paymentech then, changed its name after the acquisition.
"Paymentech continues to face pricing pressure and is having a tough time making acquisitions--which had been a big source of growth in the past," says analyst Jennifer Scutti at Prudential Securities. A shareholder class action also has been filed against Paymentech in Texas, claiming it failed to disclose the slowdown resulting from its acquisition by Banc One. Paymentech denies the allegation. A Paymentech spokesman declined comment on the Citicorp rumor. Citicorp didn't return calls.
Before it's here, it's on the Bloomberg Terminal.
LEARN MORE