British Biotech's Falling Star
The company's big investors want CEO McCullagh out
Julia Flynn
Only a couple of years ago, Keith G. McCullagh looked like Britain's gift to genetic engineering. British Biotech PLC, which McCullagh co-founded in 1986, had enough promise to set investors aglow--and it did. In 1992, it became the first biotechnology concern in Europe to go public. Four years later, the market valued McCullagh's once struggling startup at $2.85 billion, ranking it among Britain's largest companies. Given that British Biotech had yet to produce a drug, such enthusiasm was "nearly a miracle," says Mark Edwards, formerly one of the company's top scientists. "You need a special guy to do that."
You do indeed. And McCullagh may have to prove himself a special guy again if he is to survive as CEO. Big investors are now calling for his head. They worry about delays in launching Biotech's first products and about commotion among top managers. These problems have prompted them to question whether McCullagh's bullish entrepreneurial drive is what Biotech needs as it braces to begin bringing in revenues from its drugs.
Most pressing is the stock price: Biotech has lost three-quarters of its value since its golden days. Its American depositary receipts are now trading at roughly 12, down from a high of 46 in May, 1996. "There is extreme disappointment in British Biotech, and whenever there is disappointment, one looks at management," explains one of the fund managers trying to oust McCullagh. Indeed, the company now casts a shadow across the industry, depressing other companies' shares and making fund-raising difficult.
How did it come to this? The most recent trouble began on Mar. 12, when Biotech announced that it had suspended Andrew Millar, director of the clinical trials of Biotech's debut drugs: Marimastat, a cancer compound that remains the big draw for McCullagh's venture, and Zacutex, which treats acute pancreatitis. Neither the company nor Millar will comment until an internal investigation is completed, possibly by Mar. 27. But British Biotech alleges that Millar discussed developments at the company with outsiders. Bankers and analysts believe that Millar may have told one institutional investor about problems in the trials, possibly involving their design or the drugs' side effects.
SURVIVOR. Whatever lies behind Millar's suspension, the move sent British Biotech's ADRs skidding 14%, to 12.50, on Mar. 12. Even before that, fund managers say, concerns were mounting about chronic management turmoil at Biotech. The Oxford-based company has lost nine of its 10 original directors since McCullagh, a veterinarian by training and former executive at G.D. Searle & Co., took the company public. Even co-founder and chairman Brian Richards, another Searle alumnus, has departed, making McCullagh, whose stake is just over 1%, the sole board-level survivor from the early days.
To many investors, that status reflects one of British Biotech's core problems. "Keith McCullagh seems to have too much power," fumes Stanley D. Pearson, head of British equities for Scottish Widows Investment Management Ltd., a pension fund that owns 18.6 million shares, or 2.8%, of Biotech stock. Pearson is not involved in the effort to oust McCullagh. But he says the criticisms of McCullagh's management voiced by those who are after the CEO "echo our concerns."
The gripe about McCullagh goes beyond his authoritarian style. He has been brilliant at selling the company, both investors and former executives say, but not so great at running it. For instance, after consulting with outside experts several years ago, the company took a shortcut in designing the European clinical trials for Zacutex. It was so confident that the compound would win approval based on these smaller and less costly trials that it began setting up a European marketing and sales force last year--anticipating that it would have a drug to sell in 1998. But last month, European regulators decided to defer approving Zacutex, pending the completion of more thorough U.S. trials. British Biotech's stock sank 31% on that piece of news.
McCullagh declines to comment on recent developments at Biotech--or on the broader criticisms leveled against him. Clearly, his pronounced ability to raise expectations among investors has begun to work against him. But McCullagh's management has not necessarily been as erratic as his critics charge. British Biotech's high talent turnover, for instance, is part of its transition from a startup to full-fledged drugmaker--as some investors and former company executives accept.
As to McCullagh's power within British Biotech, David Simpson, a company spokesman, points out that the CEO has overhauled management during the past year and brought in a number of high-powered executives who wouldn't work for an autocrat. Examples include finance chief Malcolm Fallen, who held the same job at a big unit of British Telecommunications PLC, and Pam Kirby, a former vice-president at Swedish drugmaker Astra who is now British Biotech's commercial director. Simpson concedes that McCullagh is a forceful personality but asserts that this is often the case with founding entrepreneurs: "Nobody would say Bill Gates is a wimp."
Biotech is certainly no place for a wimpy CEO now--not with the difficult strategic call McCullagh faces. In the wake of the miscalculation over Zacutex, he must decide whether to build Biotech into a major drug company with its own sales force, as he has long wanted, or forge a partnership with a bigger company to sell its products. Considering the launch delays and McCullagh's dwindling cash pile of about $240 million, he may not have a choice. Losses are mounting: They reached $70 million in the nine months to Jan. 31, from $63 million in the 1996-97 fiscal year. London investment bankers and former insiders think McCullagh is looking for a U.S. partner.
If fresh data from the Marimastat trials, due in May, look promising, McCullagh is likely to find one with a strong portfolio of cancer drugs, such as Eli Lilly & Co. or SmithKline Beecham. Such a tie-up would give Biotech and the life-sciences sector a huge boost. Many analysts still believe Marimastat, the first of a new type of cancer compounds, could be a blockbuster, topping $1 billion in annual sales.
In the meantime, it's clear that British Biotech's unsolved problems have been a drag upon the industry. While the British stock market has risen 41% over the past year, the biotech sector has dropped 50%. McCullagh's company, which has lost fully $2 billion in market capitalization over that period, accounts for half of the sector's loss of value, according to BioCentury, an industry newsletter based in San Carlos, Calif.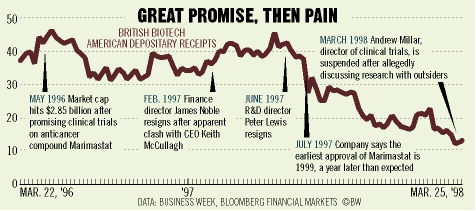 As to McCullagh's future as British Biotech's CEO, even his fans have doubts. "Keith is truly one of the most impressive entrepreneurs I've ever met," says David Leathers, a director at Abingworths Ltd., a London venture-capital fund and one of British Biotech's earliest investors. "He's an absolute master at presenting his vision for British Biotech, and that's undoubtedly one of the reasons the stock became so popular." But Leathers, who resigned as a Biotech board member in 1995, adds: "Following delays and disappointments, it's always difficult to know if a founder should step aside and when."
Unless McCullagh can use his persuasive skills on investors again, his departure from the company he started may come sooner rather than later.
Before it's here, it's on the Bloomberg Terminal.
LEARN MORE