Breathing New Life Into An Ailing Art
Open the door to the cramped Mexico City studio of artist Rafael Alvarez and you enter a world of vivid fantasy and faded memories. Brightly colored papier-mache dolls hang on a wall. Scattered about are colorful little shrines to the Virgin of Guadalupe decorated with sequins, pearls, antique earrings, and milagros--the tiny silver legs, heads, even hearts that Hispanic Catholics leave as votive offerings beside statues of saints. An army of tin soldiers marches across a cabinet shelf. Drawers hold old perfume bottles, thumb-size crystal skulls, and pre-Columbian shards.
Alvarez collects these curiosities in flea markets, junkyards, and dusty backstreet shops, then arranges them inside boxes into intricate scenes. He cultivates suppliers, including an 80-year-old man who molds and paints inch-high soldiers. "When he dies, I'll have no other source," says Alvarez sadly.
In fact, Mexico's folk art is endangered, he says. Alvarez believes his mission is to keep it from vanishing in the flood of plastic toys and throwaway items that are a hallmark of our times. "I collect tiny bits of old Mexico and place them carefully in a display box to make my own variety of social commentary," he explains. In the late 1980s, when Mexico joined GATT, cheap junk began making its way into Mexican homes, bazaars, and shops that once stocked home-made crafts. "We have to fight our centuries-old tendency to admire everything that comes from abroad," he says.
Alvarez' fears are only partly being realized. Some Mexican crafts are indeed in decline--weaving, for instance. But many folk arts are undergoing a renaissance thanks to the very cultures responsible for the plastic rubbish. In recent years, wealthy foreigners, primarily Americans, have discovered Mexican folk art, snapping up everything from painted wooden animals made in Oaxacan villages to Day of the Dead scenes with clay mariachi skeletons serenading a skeletal sweetheart.
Americans seem to embrace everything Mexican, from food to architecture. But folk art has a special appeal. "People want to buy handmade things because so few things around them are handmade these days," says Henry H. Glassie, folklore professor at Indiana University and author of The Spirit of Folk Art. Exports of Mexican handicrafts have increased to $1.1 billion in 1997 from $425 million five years ago. Mexican galleries are opening across the U.S. "Folk art is such a celebration of life by artists who themselves often live very difficult lives," says Larry Sanders, owner of Casa Mexicana in Dallas.
Alvarez' boxes are sold internationally, mostly out of his studio, at prices starting at $350. They're displayed at both the National Auditorium and the Children's Museum. Alvarez, 50, considered becoming a priest but decided his first love was art. "I've never been a very good painter or sculptor, so I just make these boxes," he says.
Just boxes, indeed. To collectors, they are treasure chests. Alvarez spent weeks collecting hundreds of objects for the display I commissioned and three days painstakingly assembling and gluing them down. Through the open doors of the bright blue 20-by-12-by-12-inch box, I see a miscelanea, a Mexican country store that bustles with activity. Such stores were "the center of a town's life--a place where you could go and ask the owner to help you write a love letter, buy soap and huarache sandals, and hear the latest gossip," he says. Now, the miscelaneas, too, are vanishing, some replaced by Wal-Mart Stores.
I'm overwhelmed by the tiny scene: Counters, shelves, and floors are stocked with everything from brooms to bars of soap, folded newspapers to tortilla presses. Tissue-paper banners hang from the ceiling, as does a birdcage. Alvarez flips a switch, and tiny electric lights illuminate the store. It's perfect, I tell him, and immediately commission another scene--an old-fashioned Mexican kitchen, with a volcanic-rock molcajete (mortar and pestle), ceramic plates and cups, and hand-painted tiles around the wood-burning stoves.
Mexican folk artists create a fantastic variety of intricate objects. In many villages, men, women, and children fashion tiny clay skeletons and little wooden armadillos and turkeys whose heads bob, nativity scenes that fit inside walnut shells, and pinatas that make political commentaries, such as one depicting reviled former President Carlos Salinas de Gortari in a tuxedo, his pockets stuffed with ill-gotten cash. The lush color and detail of Mexico's handicrafts, says Chloe Sayer, a London-based author of five books on Mexican customs and art, is "the fusion of ancient indigenous cultures with the Spanish invasion and Catholic traditions, which produced something that is visually very rich."
REUNION OF SOULS. While outsiders cherish Mexican tradition, many Mexicans, in their quest to be modern, now shun it. "People are refusing to wear their typical costumes, ashamed of identifying themselves as Indians," Sayer says. "I know girls who are wonderful weavers who have gone off to the city to work as maids or in factories." In some villages, American-style Halloween is displacing Mexico's Day of the Dead celebration, where families flock to cemeteries with food, flowers, and music to stage joyous all-night "reunions" with the souls of departed loved ones. To encourage pride in Mexican traditions, the National Art Foundation sponsors contests for artisans and sells the best work in stores throughout Mexico.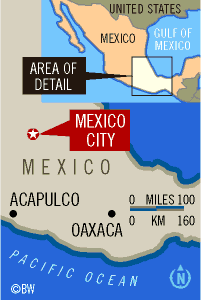 As my visit ends, Alvarez shows me an antique wooden cigar box from Veracruz that he found in a dump. "I was thinking of filling it with old Mexican objects, making it a mini-history museum," he says. Impulsively, I ask if he'll sell it to me. My daughter Meghan, 10, gasps when Alvarez delivers the completed box. She has an idea that leads Alvarez to his next project: a remodeled doll house. Meghan wants him to turn it into an authentic Mexican dwelling. The two lose themselves in details of a new tile roof and the design of a shrine. Together, my Brazilian-born American daughter and this Mexican artist will infuse it with what makes Mexican folk art so extraordinary: spirit.
Before it's here, it's on the Bloomberg Terminal.
LEARN MORE