A Lab Pregnant With Possibility
by
Insiders at Columbia Laboratories (COB) think its one "blockbuster" product--Crinone, a natural progesterone gel approved in 1997 by the Food & Drug Administration for infertility treatment--is finally ready to take off. Its marketing by American Home Products' Wyeth-Ayerst unit is now being launched "in full force in the U.S.," says Columbia Labs Chairman William Bologna. He's convinced Crinone will highlight Columbia's focus on women's health care, a market valued by analysts at $6 billion and expected to exceed $10 billion by 2000.
Crinone comes in two forms: Crinone 8%, a prescription product approved for assisted reproduction, launched last September in 23 fertility clinics, which, analysts say, has had solid acceptance; and Crinone 4%, launched in mid-March, said to be a breakthrough in hormone-replacement therapy.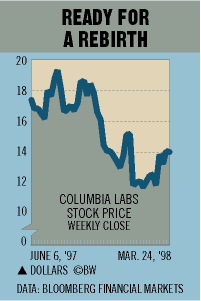 Columbia uses a patented bioadhesive applicator that delivers Crinone directly to the uterus. The gel adheres for at least 72 hours and protects against infection, minimizes leakage, and is hypoallergenic. Analyst Elizabeth McCreery of Lazard Freres expects Crinone 4% to become an "important option" for hormone replacement, offering advantages to progestin-intolerant women and women in early and midstages of menopause.
McCreery expects earnings to increase from 3 cents a share in 1997 to 31 cents in 1998, $1.07 in 1999, and $1.68 in 2000. Columbia's stock, trading at 13, could hit 21 1/2 in 12 months, she says, based on a p-e of 20 times her 1999 earnings estimate.
Bologna puts the Crinone 4% market at $1.5 billion. "We expect to take some 2% of the Crinone 4% market this year and then ramp it up next year," he adds. AHP doesn't own shares in Columbia. "We haven't discussed that aspect," insists Bologna.
Before it's here, it's on the Bloomberg Terminal.
LEARN MORE