Well, Mr. Jobs, What'll It Be?
Apple's board may soon force Jobs to decide his role
By
To be or not to be CEO? That is the question Steve Jobs can't seem to answer. Now, after months of waffling, it may be decision time. At a Mar. 24 board meeting, BUSINESS WEEK has learned, some Apple Computer Inc. directors plan to put the question to the co-founder and CEO pro-tem since last September: Are you staying on permanently, or will you go and make way for somebody new? To encourage him to stay, insiders say, the company has offered Jobs a huge pay package--as much as 8% of the company.
But the offer can't sit on the table forever. Says one insider: "Some members of the board don't want to leave loose ends open for eons." In fact, the board has identified a suitable replacement who is only waiting for Jobs to make up his mind, insiders say. But that candidate won't take the post unless Jobs agrees to give up the CEO title and ultimately the chairmanship as well. Other candidates have said the same thing. "If I'm going to go there, I want to run the show," says one tech-industry veteran considered for the post. "I'm not interested in being a utility infielder." Asked to comment on the situation laid out by insiders, Jobs told BUSINESS WEEK in an E-mail: "Your sources are wrong."
What is not in dispute, however, is Jobs's indecision. Last October, it seemed that he was ready to go. Returning from a soul-searching vacation in Hawaii, he told the board he would not take the top job permanently. Instead, he preferred to pursue his movie-mogul career as CEO of Toy Story creator Pixar Animation Studios and spend more time with his family. Weeks later, in December, he turned around and asked the board to make him an offer, according to insiders. The reason: With Apple showing signs of recovery, he figured he could juggle duties at Apple and Pixar.
Two days later, the board responded. Not enough, Jobs said. So the board sweetened its offer and then waited. And waited. "We make him an offer, and it's like he took a two-month vacation," gripes one insider. Then, in a conference call with the board several weeks ago, Jobs suddenly asked again for the board's best offer. The result was the sweetest deal yet: 5% to 8% of Apple stock, worth up to $270 million at today's price. According to insiders, Jobs still isn't sure.
Indeed, the Apple founder's zigzagging has directors worried about how long he might stay if he does accept. "When a guy vacillates for this long, it tells you a lot," says one insider, who figures Jobs will go by yearend. "After all the chaos Apple has been through, the last thing it needs is a permanent CEO for six months." As insurance, three of the six members on Jobs's handpicked board are pushing to hire a strong No.2, company insiders say.
HELLO, COLUMBUS? Is Jobs good for Apple? He certainly has been. After years of muddy decision-making by predecessors, Jobs has simplified Apple's Macintosh product line, streamlined its distribution, and killed poor-selling products like the Newton. New products unveiled on Mar. 17, including a Mac that is claimed to be faster than any Pentium PC and a sub-$1,000 consumer model expected out in coming months, could drive sales through the rest of the year. J.P. Morgan Securities analyst Daniel Kunstler expects Apple to earn $155 million on sales of just over $6 billion for the year.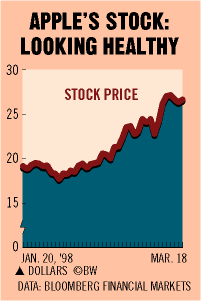 That has made Apple's stock a sizzler--more than doubling, to 26, since January. Says former Chief Financial Officer Joseph Graziano: "Steve has made a lot of tough decisions that [former CEOs Michael Spindler and Gil Amelio] weren't willing to make."
The problem is that Apple's recovery could well be short-lived, and insiders say that Jobs would not like to preside over a dying Apple. But the situation isn't hopeless. Apple is preparing products to extend its brand into new markets, including a TV set-top box-cum-Mac, dubbed Columbus. But with Mac market share down to low single digits, the safer decision may be to stick to the movie business: Thanks to a recent runup in Pixar's stock, to more than $33, Jobs's 72% stake is now worth $1 billion.