Washington Mutual: Bigfoot Heads South
The Seattle bank Wells Fargo and BofA
Kathleen Morris
Back home in the Seattle suburb of Bellevue, Kerry K. Killinger takes great pride in how fast he can mow his 5,000-square-foot backyard. His best time, says his wife Debbie, is seven minutes. It's little wonder then that the 48-year-old chairman and CEO of Washington Mutual Inc., which towers over its thrift rivals, has taken such apparent glee in cutting a swath through West Coast banking. His latest move, the $9.9 billion acquisition of H.F. Ahmanson and its giant Home Savings of America, should put California behemoths Bank of America and Wells Fargo on alert for Killinger's combine.
Over the past seven years, using Washington Mutual's rocketing stock, Killinger has transformed an obscure $8 billion-in-assets thrift into the first institution with the breadth to challenge BofA and Wells Fargo in California's fragmented retail banking industry. Since 1996, Washington Mutual will have paid $20 billion in stock for such major California savings-and-loan players as American Savings Bank, Great Western Financial, and now, Home Savings. That has given it $150 billion in assets, vs. Wells Fargo's $100 billion and BofA's $260 billion. "Before, you had two seven-foot, two-inch giants and a bunch of junior high school kids on the court," says Lehman Brothers Inc.'s Philip R. Erlanger, Washington Mutual's lead investment banker. "Now, you have another power forward in the game."
The thrift's main game is mortgage lending. With Home Savings, it will be the West Coast's biggest, with almost twice as many loans as No.2 BofA. Mortgage banking has been a notoriously unrewarding business. But no one has done a better job of using technology to lower the cost of loan origination and entice customers to try other services, such as checking accounts and home equity loans, says Salomon Smith Barney analyst Thomas O'Donnell.
Washington Mutual doesn't compete in many commercial arenas, such as midsize corporate loans, but it has been moving in on many consumer businesses of such commercial banks as Wells and BofA. Washington Mutual is bringing in 23,000 new households each month, lured by the thrift's promise of totally free checking--something commercial banks largely resist. And those free accounts, which lower funding costs, have given it a heady source of fee income. The thrift charges a steep $20 penalty for bounced checks, helping it to earn an average of $200 in fees annually from each account. "We're now every bit as strong as Bank of America and Wells," says Killinger.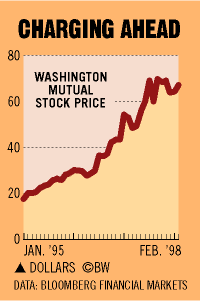 His southern march comes at a bad time for Wells, which has had trouble consolidating its 1996 purchase of First Interstate. It has lost more customers than it intended to during its cutback of branches. And while BofA may have gained overall, it has lost its No.1 position in mortgage lending.
Killinger's move is not without challenges. His commercial-bank rivals enjoy big advantages, including a more robust automatic-teller-machine network, an extensive branch network in supermarkets, and a greater breadth of consumer products. Killinger claims his network of some 700 branches in California will compensate with better service, competitive prices, and a strict focus on consumer banking. It's not a novel approach, but it's one that has served the lawn man from the north well so far.
Before it's here, it's on the Bloomberg Terminal.
LEARN MORE