Virgin Vs. British Airways: The Great Train Rivalry
Virgin and British Airways duke it out for a Chunnel rail line
Julia Flynn
Archrivals in the sky, Richard Branson and British Airways PLC are now shifting their grudge match to the rails. Branson's Virgin Group has already submitted a plan to the British government for taking over Eurostar (U.K.) Ltd., the troubled train service serving London, Paris, and Brussels. On Mar. 16, BA announced that it, too, was interested in making a bid. At stake: control of one of the busiest travel routes in the world.
While it promises to be a good fight, neither party has a strong hand to play. BA's interest has raised concerns over its possible dominance of the Paris-to-London route, especially since it is awaiting European approval for its planned global alliance with American Airlines Inc. Likewise, Branson is being heavily criticized for Virgin's poor performance on its two existing rail lines in Britain. And because Virgin is a member of the eight-company consortium that now runs Eurostar, it can't shirk responsibility for at least some of the mess the service now finds itself in.
And what a mess it is. On Mar. 31, Eurostar's current operator, London & Continental Railways Ltd., faces a government-imposed deadline to come up with a rescue plan for both Eurostar and a related $8.2 billion project to build a high-speed train link between London and the Channel Tunnel. LCR is almost certain to miss this deadline: It's still sulking after the government turned down its request for an extra $2 billion in subsidies in late January. Sir Derek Hornby, LCR's embattled chairman, says he sees "no commercial case [for LCR] unless further public money is made available."
That means the LCR consortium, which includes SBC Warburg Dillon Read, National Express Group, Bechtel, and Virgin, could face the embarrassing prospect of going belly-up by the end of the month, after $295 million in operating losses last year. At the same time, the British government faces the tricky question of what to do with Eurostar and the high-speed rail link in the future. Chances are it will separate the two--awarding the construction contract to Bechtel or Kvrner, which have both expressed interest, and the Eurostar franchise to BA or Virgin.
Despite the problems, Eurostar holds lots of promise. It started passenger service in November, 1994, and carried 6 million passengers last year (chart). That's nearly 60% of total air and rail travelers between London, Paris, and Brussels, an estimated $2.6 billion market. Hopping the train is quicker and cheaper than taking a plane. A round-trip Eurostar ticket from London to Paris costs $328, vs. $426 for air fare. Eurostar "blows airline competition into outer space," says Oliver Stuart, a senior analyst at AvMark International Ltd., a London-based consultant.
Yet while Eurostar is eating into the airlines' business on the Paris-to-London route, it's not gaining share as fast as expected. Initially, as many as 10 million passengers were expected to use the service by 1997. But a November, 1996, fire in the Chunnel halted trains for three weeks and spooked customers.
BA and Virgin figure they can improve Eurostar's performance with more sophisticated distribution and marketing. In turn, Eurostar could help feed new passengers, particularly more profitable business travelers, into BA and Virgin's existing networks.
VIRGIN TERRITORY? That's why the maneuvering between the two is likely to intensify. Some industry watchers are already crying foul over BA's interest in Eurostar, which could take its overall market share of the London-to-Paris route well above 60%, the level at which the EU could force the $15.2 billion carrier to divest some of its landing slots. To get around this, BA is likely to strike a deal with its bid partner, rail-and-bus operator National Express Group PLC, in which BA lends only technical knowhow rather than its brand.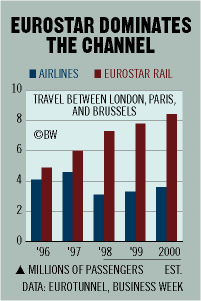 As for Virgin, its rail businesses have suffered some recent setbacks, including a customer survey by rail regulators that found dissatisfaction with seat availability and timetables. Virgin counters that it is spending heavily to improve its West Coast and CrossCountry lines, including $3 billion for new trains.
Such expenditures may mean that Virgin is too stretched to bid for Eurostar. "Virgin's problems with its own railways won't do it any favors" in winning the Eurostar service, says Chris Partridge, an airline analyst at Deutsche Morgan Grenfell & Co. in London. Partridge figures BA and National Express are the clear front-runners for Eurostar, largely because of BA's wider marketing presence. But BA's bigness hasn't deterred Branson in the past. Stay tuned.
Before it's here, it's on the Bloomberg Terminal.
LEARN MORE