U.S.: Consumers' Shopping Carts Are Filling Fast
Solid fundamentals and warm weather keep the economy pulsing
by
Buying power: U.S. consumers have it, Asians don't. Therein lies the dichotomy in the economy's first-quarter performance. Income growth is surging this quarter, and low inflation is stretching paychecks further. Throw in El Nino's gift of a mild winter in the East, and you have the makings of a powerful spurt in consumer spending and homebuilding. But at the same time, Asia's meltdown is hurting exports, and U.S. manufacturers are starting to feel the effects.
According to the latest data, not only were January and February retail sales vibrant, but overall prices of retail goods are falling, meaning sales volume is surging. Housing starts boomed in February (chart), and in March, homebuilders said market conditions were the best in years. Also in March, first-time jobless claims fell to the lowest level of the year, suggesting continued strength in job creation and income growth.
Meanwhile, after a hearty boost in their production in the fourth quarter, industrial plants slammed the brakes on output increases in February. Some of that slower pace clearly reflects the Asian influence on weaker exports, especially since production of capital goods, a big export item, has slowed noticeably. Moreover, business inventories did not grow at all in January, perhaps a signal that businesses are making some downward adjustments to their stockpiles.
The bottom line: Domestic buying power, with its fast gains, is going to triumph in the first quarter. Growth in real gross domestic product is adding up to an annual rate of more than 3%--close to the 3.5% pace in the second half of last year. For the second quarter, a slowdown in domestic demand is likely, given that good weather caused some spring-quarter buying to be brought forward into the winter. But with consumer fundamentals so strong, households may not stay out of action for long.
PERSISTENT STRENGTH in household demand has been the economy's key feature of the past year. It looks as though--when all the first-quarter data are in--real consumer outlays for goods, services, and new housing will have accounted for more than 80% of the economy's growth since the end of 1996. But the pattern has been a zigzag, with alternating quarters of spending sprees followed by respites.
The first quarter is clearly one of those sprees. Retail sales rose a healthy 0.5% in February, and January receipts jumped 1%, a gain that was revised sharply higher from the 0.1% increase originally reported. February receipts, which are based on only partial-month reporting, are likely to be revised upward as well, given the month's unusually warm weather and the strong weekly results of private-sector surveys.
Leading the February sales gain: Department stores and clothiers each posted 1.3% increases in receipts, on top of advances of more than 2% each in January. Building supply and hardware stores also scored big gains, reflecting the boomlet in housing. Furniture store sales dipped 0.4% in February, but that followed the largest two-month gain in four years.
MOREOVER, WHEN RETAIL SALES are adjusted for inflation and to exclude those categories that do not enter the Commerce Dept.'s measure of real consumer spending in the GDP data, so-called core retail sales are on track to post the strongest quarterly advance of this seven-year expansion. A conservative estimate of first-quarter growth in real consumer outlays would be around 5%--which is about the same powerful pace at which real aftertax income appears to be growing.
Store receipts actually understate the volume of goods consumers are buying (chart). Average sales during the past three months are up only 3.4% from the same three months a year ago. But because overall retail prices have fallen 1.1%, the real volume of sales is up a much stronger 4.5%.
Of course, that price decline is exaggerated by the nearly 7% drop in prices at gasoline stations and by the more than 32% plunge in prices of computers and software. The fact is, excluding those two categories, prices for 90% of retail goods are rising 1.1%. That's slower than the 1.8% trend of price growth during the previous two years, but the deflation suggested by the overall index is far from a general trend.
Not only are consumers spending their income, but they also have enough left over to relieve some of their debt burdens. Late payments on bank credit cards in the fourth quarter of 1997 dropped to the lowest level since 1994, says the American Bankers Assn. The percentage of accounts delinquent 30 days or more fell to 3.04%, down from 3.53% in the third quarter and from a record 3.72% a year ago.
CONSUMERS ARE ALSO SHELLING OUT for new homes. Homebuilders broke ground on new houses at an annual rate of 1.64 million in February, up a steep 6% from January. Regionally, the month's gains followed El Nino, with double-digit increases of 14.3% in the Northeast and 10.9% in the South. Midwest starts rose 8.1%, but building in the West dropped 7.9%, probably reflecting El Nino's unfriendly side.
Starts are likely to fall from the February peak in coming months, indicating in part the payback from the weather-related strength. But housing activity should remain at a relatively high level this spring and summer because of low mortgage rates, record-low inventories of unsold new homes, and generally solid consumer fundamentals. The National Association of Home Builders' latest index of market conditions dipped to 67 in March, from 68 in February, but February's results were the most upbeat in four years.
To be sure, the news on the first quarter is not all good, as the crosscurrents in overall demand begin to hit manufacturers, who export a record 27% of their output. Earlier signs of weaker export orders and a flattening out of overall nonaircraft bookings are now showing up in factory output. Industrial production in factories, utilities, and mines failed to rise in February, as did output in the manufacturing sector alone.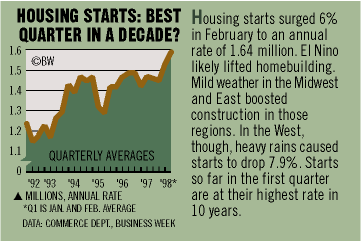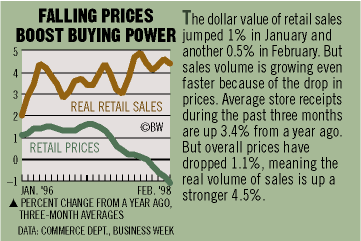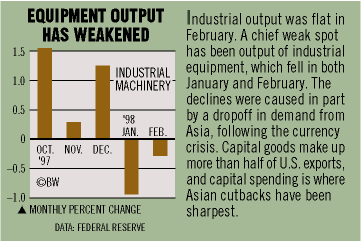 Output does not appear to be collapsing, mind you. Factory production is on track to rise at an annual rate of about 3.5% this quarter, but that would be a considerable slowdown from the fourth quarter's 8% rate of growth. A chief weak spot recently is output of industrial equipment, which fell 0.3% in February, after dropping 1% in January (chart). Exports of capital goods make up more than half of all foreign demand for U.S. goods, and that is where Asian cutbacks have been the sharpest.
So if you're looking for a slowdown in the U.S. economy, the lesson from the first quarter is: Don't waste your time staring across the Pacific. Keep your eyes peeled on the labor markets, consumer spending, and business investment. If the slowdown is real, that's where it will show up.
Before it's here, it's on the Bloomberg Terminal.
LEARN MORE