Telstra Flies High Down Under
But has the telecom company's IPO been too successful?
Tracey Aubin
Australian housewife Kim Beale ignored analysts' cautions when she paid $1,568 for 1,200 shares in the initial offering of Australia's state-owned phone company, Telstra Corp. "I just had faith in the company," she says. Now, analysts are warning that after a runup of 42% since November, the shares are overpriced. Beale's response? She's holding on.
The faith of 1.6 million small investors, many of them first-timers like Beale, has turned Telstra into the hottest stock in Australia--and maybe all of the Pacific region. Beale and other ordinary Australians have almost doubled their money, since the government let them buy their shares at a steep discount to the initial price. The float is such a success that a sell-off of the remaining two-thirds of Telstra is likely.
The experts are wondering how they got it so wrong. Many point to extraneous factors such as the Asian currency crisis, which boosts the appeal of companies such as Telstra that have little exposure to overseas markets. Or it could be that Telstra is just a good company. Deregulation has whittled away its monopoly of late, but thanks in part to productivity gains, it doubled earnings, to $1.1 billion, ahead of expectations, in the six months ended in December.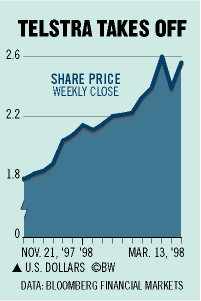 The skeptics are still muttering warnings. Analysts point out that Telstra is now one of the most richly priced phone stocks in the world, with a price-earnings ratio of 24 and a market value of $44 billion. "While the outlook is good, it is not as good as the price is suggesting," says ANZ Securities' Andy Butterell. He points out that Telstra's major competitors, Optus Communications and Vodafone Group, have recently eased up on price wars to focus on margins, but that this truce is probably temporary. Even Telstra's chief, Frank Blount, has warned the second half will not duplicate the latest earnings triumph.
Don't bother telling any of this to investors such as Beale--or the politicians. The ruling Liberal Party, which must call an election within the next year, will promise to sell even more Telstra shares as part of its campaign platform. Says Australia's Treasurer, Peter Costello: "It has been fantastic. Mums and dads and young people and old people got the chance for a good investment from a national asset." True enough. Just watch out for the first bad earnings report--and a possible stampede of mums and dads as they exit a fallen stock.
Before it's here, it's on the Bloomberg Terminal.
LEARN MORE