Mexico Slips In An Oil Puddle
As crude prices plunge, investors worry about the economy
Elisabeth Malkin
Mexico started the year on a high note. The economy had largely shrugged off the impact of Asia's turmoil. The government of President Ernesto Zedillo Ponce de Leon was forecasting 5.2% growth in gross domestic product, and beleaguered Mexican workers were looking forward to their first real wage hikes in four years. Then the price of Mexico's oil fell--and fell some more, by nearly one-third, or about $4.40 per barrel, since December.
That's scary, given Mexico's reliance on oil. Although many analysts still see bright spots, jittery investors, particularly foreigners, are shunning Mexico's stock market. It's down 14.1% in dollar terms this year (chart). American depositary receipts of blue chips such as steelmaker Hylsamex and construction giant Grupo ICA are off 28.2% and 27%, respectively. "A few months ago, it was the Asian crisis--now it's the oil crisis," says Raymundo Winkler, director of the Center for Private Sector Economic Studies in Mexico City. "Until the dust settles, investors will be nervous."
What's making them wary, after last year's exhilarating 52% rise in the bolsa, is the damper on the economy from oil's collapse. Lower oil prices mean less revenue for the government and a widening trade gap that puts pressure on the peso. Although oil accounts for only 10% of Mexico's exports, state oil monopoly Petroleos Mexicanos provides almost 40% of government revenues--which shrink by $800 million for each dollar that oil prices drop. In response, Zedillo's team cut spending by $1.8 billion in January and recently tightened monetary policy to fight inflation.
While that's prudent, analysts expect the moves to trim GDP growth to 4.7% or less. What worries portfolio investors is the potential brake on corporate profits and stock prices. With more spending cuts likely, people are "waiting for the other shoe to drop," says Gray Newman, Latin America economist for HSBC Securities Inc. Some investors have left for Brazil, where Sao Paulo's market has risen 14% this year after recent free-market reforms and privatization plans.
Mexico's trade balance, as well as its budget, is being hurt by the price drop at a time when imports have been spurred by last year's 7% GDP growth. The result is downward pressure on the peso, off by 6.4% so far this year, and upward pressure on consumer prices. They rose almost 4% through February, putting the government's 12% inflation target for the year out of reach.
While the uncertainty has made investors sit things out, their skepticism puzzles many Wall Street analysts, who are relatively upbeat about Mexico. That's because of the continuing momentum from last year's consumer recovery. In the crisis after the 1994 peso devaluation, Mexican workers lost a quarter of their purchasing power. But now, employers are starting to give pay raises of 19% or so. That will give a further boost to long-depressed consumption.
BOND BETS. There are other positive signs. At a breakfast this month in Los Pinos, Zedillo's official residence, executives of 199 multinationals such as Ford Motor, Sony, and Philips Electronics pledged to invest $10.5 billion in Mexico this year, creating 46,000 jobs. The inflow will cover a good chunk of Mexico's current account deficit, which could hit $14 billion this year as imports rise. And in the global bond market, Mexico placed a $415 million, 15-year Italian lira issue on Mar. 17, just two weeks after a $1 billion, 10-year global bond issue in the U.S. "The debt market seems to be shrugging off concerns," says Eduardo M. Cabrera, chief Latin America strategist for Merrill Lynch & Co. in New York.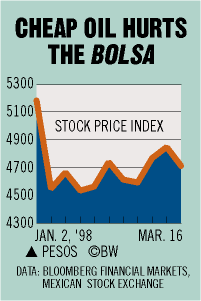 Most analysts believe it's time for a turnaround. They are most bullish on stocks that will gain from rising consumer demand, such as brewer FEMSA and retailer Soriana, even though FEMSA's ADRs are down 12.9% and Soriana is off by 13.1% on the bolsa. They also like bellwether Telefonos de Mexico, though its ADRs are off by 2.9% for the year. But discordant voices, such as Salomon Smith Barney's Latin equity strategist James W. Barrineau, warn that earnings may look flat this year after 1997's strong growth. And as oil prices slide, such voices are the ones that investors seem to be heeding.
Before it's here, it's on the Bloomberg Terminal.
LEARN MORE