Does Response Have The Answer?
by
Response USA (RSPN) would appear to be in a win-win situation: This provider of integrated electronic security for homes and small businesses is in an industry that's rapidly growing--and where the big players are rushing to consolidate. Yet shares of Response, the 18th-largest in the business, have been acting like losers. They've slumped to 5 7/8 on Mar. 17 from 11 in mid-October. What's weighing Response down?
In part, the stock is weak because of a secondary offering of 3 million shares at 6 1/2 on Feb. 5, which more than doubled the shares outstanding. Still, some big investors have bought stock. Among them are Mario Gabelli, who bought some 300,000 shares for the Gabelli mutual funds, and New York hedge fund Gabriel Capital, which acquired some 150,000.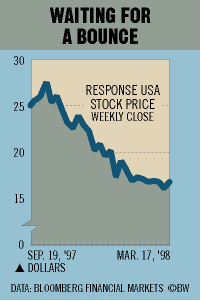 Response services some 60,000 residential and small-business subscribers in New York, Connecticut, New Jersey, Pennsylvania, and Delaware, and is one of the few independents left in the electronic protection business. In July, 1997, Tyco International acquired ADT, North America's leading provider of electronic security services. And Western Resources in November bought 82% of Protection One, which provides monitored security services in seven states.
Before the stock offering, Protection One's investment banker had sent feelers to Response seeking to buy privately all of the 3 million share offer at 7 apiece. President and CEO Richard Brooks, who turned down the offer, says: "In a couple of years, we will grow larger and command a much higher price."
Gruntal analyst Mark Langley expects earnings before interest, taxes, depreciation, and amortization of 70 cents in 1998 and 92 cents in 1999. He thinks the stock will hit 9 1/2 in a year.
Before it's here, it's on the Bloomberg Terminal.
LEARN MORE