Canada: A Brawny Economy Is Taming The Budget
by
The best news coming from Canada's fiscal front is about...nothing.
That at least is one way to read Finance Minister Paul Martin's announcement that the federal budget will be in balance for the fiscal year ending Mar. 31. Martin also said the balance will be zero for the next two years--quite a turnaround from Canada's huge deficits in the early 1990s (chart).
Spending cuts have helped to trim the deficit, but the real catalyst has been the robust economic growth that is lifting revenues in this heavily taxed country. Despite the Asian crisis and two major strikes, real gross domestic product rose at a 3% annual rate in the fourth quarter. Real GDP grew 4.2% for all of 1997, the best pace in three years.
And the economy still shows some energy now, even with Montreal's ice storms, continued fallout from Asia, and tightening monetary policy. February payrolls rose by a large 81,700, while the jobless rate fell to 8.6% from 8.9%. The economy's vigor is why private analysts say that Ottawa will actually post surpluses this fiscal year and beyond.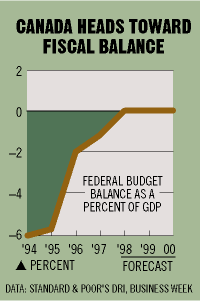 Martin's restrained forecast, however, is an attempt to head off a fight over how to spend any windfall. The conservative Reform Party wants some tax relief and debt reduction. Even with its recent deficit-cutting, Canada's public debt stands at a massive 68.1% of GDP. The New Democrats want a rise in social-service spending. Martin's governing Liberal Party has pledged tax cuts for lower-income households, some increased spending, and--if there is extra cash--a little debt reduction.
In particular, Martin, who is seen as a possible successor to Prime Minister Jean Chretien, has proposed federal scholarships for college students. But critics argue that the money should go directly to the provinces to improve Canada's universities. Clearly, the debate will heat up later on as the strong economy brings in more revenues. But Canada's politicians know that arguing over a surplus is far easier than cutting a deficit.
Before it's here, it's on the Bloomberg Terminal.
LEARN MORE