Bouygues Could Be A Gusher
by
Ever heard of Bouygues Offshore (BWG)? Not only is it a French company little-known in the U.S., it's also in the currently out-of-favor oil business. But Bouygues (pronounced "bweeg"), which trades on the Big Board, has attracted some savvy U.S. market players--even as many big investors have bailed out of oil-related stocks. One believer: money manager David Marcus at Franklin Mutual Advisers, which has acquired a 7% stake. "We're a value-driven, contrarian investor who looks for undervalued companies whose shares have been thrashed by investors for one reason or another," Marcus says. Bouygues, which traded as high as 29 a share in November, is currently trading at 20.
"Bouygues is a compelling buy because it's a play on tomorrow in the oil industry," says Marcus. He notes that Bouygues, an international contractor that builds onshore as well as floating deepwater oil platforms, has been signing off on many new projects.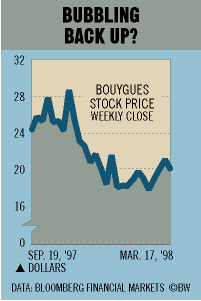 Recent deals include a $69 million joint venture in Congo to supply Elf Congo with two platforms, pipelines, and electrical cables. It also signed three contracts to install pipelines in the Gulf of Mexico. Bouygues Chairman Ivan Replumaz is optimistic that contracts for a $300 million deal in Angola, a $100 million pact with Exxon in Chad, and an $80 million project with Mobil in Nigeria, will be won this year.
Analyst Jeffrey Freedman of Prudential Securities says contract awards in 1998 will translate directly into solid earnings in 1999. He expects Bouygues to earn $1.10 a share in 1998 and $1.40 in 1999, vs. 1997's 96 cents.
Before it's here, it's on the Bloomberg Terminal.
LEARN MORE