business
Banco Central Hispano: A Junkyard Dog Becomes A Prizewinner
Its next trick is to stay independent
By
When Jose Maria Amusategui took the helm of Spain's third-largest lender, Banco Central Hispano, in 1991, he knew he had his work cut out. The economy was mired in recession, and the Spanish banking industry was careening toward the collapse of Banesto, whose eventual $6 billion bank bailout was the biggest in Spanish history. From late 1992 onward, central bankers were frantically poring over bank balance sheets sniffing out other sick lenders. Amusategui's BCH was a big worry. The bank carried a passel of bad loans, and its huge 3,700 branch network was a slow and overstaffed peseta-guzzler.
Six years later, Amusategui seems to have done the impossible. He has converted BCH into a money machine. By axing over a quarter of the branches and whipping the rest into shape, pushing the bank deeper into Latin America, and making financial investments in prime Spanish businesses, from cell phones to electricity, he has turned BCH into a star on Spain's Bolsa. In 1997, investors pushed BCH stock up 125%, making it the top-performing bank stock in Europe. BCH, with $90 billion in assets, justified the hoopla by announcing record 1997 earnings, with operating profits soaring 36%, to $918 million. On Mar. 13, BCH swooped to cash in on its success by launching a $1 billion rights issue that will increase its capital by 25%.
Now that Amusategui has shown how to convert a junkyard dog into a strutting prizewinner, he faces a greater challenge: carving out a niche for an independent midsize bank in a borderless financial market in Europe. Throughout the Continent, consolidation is already raging. Once Spain and other midsize economies qualify for the common currency, as expected, their banks, free of currency risk, will become even juicier targets for the giants in Switzerland, Germany, and France. Indeed, a giant such as Deutsche Bank with many times the capital, would find BCH easy to swallow, says Alan Broughton, bank analyst at Morgan Stanley, Dean Witter, Discover & Co. in London.
To survive in single-currency Europe, Amusategui will rely on the same team, and much the same strategy, that led to the turnaround. In his early days at BCH, he hired a longtime McKinsey & Co. consultant, Joan David Grima Terre, as chief financial officer. Grima Terre labored to clean up the balance sheet, slashing bad loans to $1 billion from $3 billion and building up loss reserves. Meanwhile, Amusategui leaned on his political contacts from a long career in the civil service to keep the central bank from intervening. BCH's losses began to shrink. Still, Amusategui says, "I felt as if I had all the chess pieces in the right position, except I was missing the queen."
PHONE FORAY. In short, he needed a heavyweight as chief operating officer. And in 1994, he found Angel Corcostegui, who has used his broad international experience to execute Amusategui's strategies, such as the further expansion in Latin America. Banks there, from Chile to Argentina to Peru, now contribute 15% of earnings.
Corcostegui also invested in a host of new industries at home, buying up chunks of Airtel, the first cellular-phone challenger to Telefonica de Espana's MoviStar unit, and electric company Union Electrica Fenosa, which plans to go public later this year. At the same time, Corcostegui engineered crossborder alliances with Continental powers such as Germany's Commerzbank. It was a way to offer clients banking services throughout Europe and line up potential white knights in the event of a takeover battle.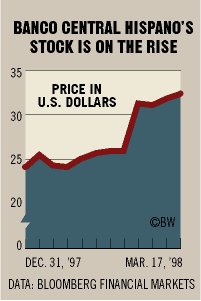 Corcostegui's biggest job was to clean up BCH's sprawling branch system. Sensing low employee morale, he instituted a rewards program of bonuses and dividends. He closed 1,000 branches and cut the payroll from 34,000 to 21,000. It cost $875 million but now cuts $340 million a year off the wages bill. By also improving service at branches that survived the culling, Corcostegui transformed BCH's retail albatross into a tiger.
A tiger he prefers would remain uncaged. He may just get his way. Better-known competitors, such as Britain's NatWest in Spain, have come to grief by trying to run retail banks in foreign countries. So by building up retail in Spain, BCH figures it will survive as an independent among Europe's banking giants.
Before it's here, it's on the Bloomberg Terminal.
LEARN MORE