Are Drug Ads A Cure All?
Amy Barrett
Deck: After deregulation, manufacturers are finding it hard to master the art of brand-building
For years, drugmakers pinned their lackluster consumer marketing on Big Brother. The Food & Drug Administration's tight restrictions on how prescription drugs could be pitched to patients, pharmaceutical firms complained, meant their ads could never shine. But last August, after the FDA relaxed rules on TV and radio ads for prescription drugs, the industry sprinted to create hot brands out of everything from allergy pills to herpes medications.
Turns out selling their message to the FDA was the easy part. Now, drugmakers are struggling to master the art of brand-building. Some aggressive promotions have backfired with consumers. And since so many factors influence the writing of a prescription--most importantly, the opinion of the physician--many drugmakers are struggling to measure the cost-effectiveness of their multimillion-dollar campaigns. "Over 80% of our clients are questioning the efficiency of their consumer advertising," says Lee Weinblatt, chief executive at PreTesting Co. of Tenafly, N.J., an advertising consultancy.
NEW LEEWAY. Even so, that uncertainty isn't drying up the dollars. Drug industry profits are surging, thanks to record numbers of new products. That has intensified market share battles, leaving drugmakers to hope alluring ads will help them win consumer loyalty. "The days of products enjoying a five-year window without competition are gone," says Stephen S. Tang, national director of A.T. Kearney Inc.'s pharmaceutical consulting practice. "Any significant therapeutic class now sees competition within six to nine months."
That's why drugmakers cheered changes in their advertising rules. Before the FDA guidelines were revamped last August, consumer drug ads on TV and radio either named the ailment or the drug--but not both, a restriction that kept many companies from even trying. Now, the ads can include both information on the product and the illness as long as they give leads for more information and a summary of the major risks. That new leeway sent radio and TV drug ad spending soaring last year, more than doubling in 1997, to $167 million, according to Competitive Media Reporting, a firm that tracks ad spending. Total drug ad spending, including print, TV, and radio, is expected to top $1 billion in 1998.
Freedom, however, comes with its own set of problems. In the category of allergy relief, drugmakers hope that advertising will help them catch Schering-Plough Corp.'s Claritin, which boosted its U.S. sales 350% over three years, thanks in part to an aggressive campaign of consumer ads. Glaxo Wellcome PLC spent $42 million on its ad blitz last year for allergy-relief nasal spray Flonase. While Glaxo says that it was pleased with the campaign's impact, the result was a less-than-stunning $47 million U.S. sales gain.
Hoechst Marion Roussel Inc., too, is in the allergy marketing act, spending a hefty $64 million on its consumer campaign last year for Allegra. Pfizer Inc. was not far behind, with a $51 million media blitz for its own allergy product, Zyrtec. Sales for both are strong. But pharmaceutical officials say they're unsure how much of the growth is thanks to consumer advertising, vs. the more traditional promotion efforts, such as ones aimed at doctors. "Because of all the advertising [of allergy drugs] now, it is much harder to measure," says Diane Parks, head of marketing for Allegra.
WILD CARD. Adding to their difficulties, drugmakers still must contend with a powerful third party in their consumer marketing: doctors. A strong medical consensus can easily eclipse millions of dollars spent on brand-building. Consider the ad spending by Merck & Co. and Bristol-Myers Squibb Co. on their
cholesterol-lowering drugs. Bristol's push for Pravachol was the most expensive ad campaign of last year, according to Competitive Media Reporting, nearing $67 million. Merck spent close to $46 million promoting its cholesterol drug, Zocor. Both saw strong sales growth of 36% in 1997, with Zocor and Pravachol sales hitting $1.4 billion and $768 million, respectively.
But both are quickly being challenged by another drug, Lipitor, which did no consumer advertising. Lipitor, launched in February, 1997, by Warner-Lambert Co., was promoted to doctors through a marketing partnership with Pfizer. Because of the drug's exceptional ability to lower LDL cholesterol--the so-called "bad" cholesterol--physicians made Lipitor the fastest-growing drug in the category. Sales last year jumped to $583 million, and Lipitor is rapidly gaining on its high-spending rivals. Says PreTesting's Weinblatt: "If the physician is aware of what they think is a better alternative, consumer advertising will be very ineffective."
FALLING ON DEAR EARS? Part of the problem for the drug companies is that perhaps as much as half the population isn't particularly receptive to their appeals. As it turns out, men are far less likely to suggest a brand-name drug to their doctors than women. A study by Health Medical Consumer Advertising & Marketing found 29% of women asked their doctor about a branded prescription drug, vs. just 14% of men. Pfizer learned that the hard way, spending $14 million on a print campaign for Cardura, a drug for benign enlarged prostate--with limited success. "In diseases that are primarily male, there may be more effective ways to communicate than talking directly to the patient," says J. Patrick Kelly, a vice-president at Pfizer.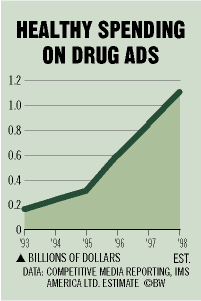 Sometimes, communication can even lead to consumer backlash. In February, both CVS Corp. and Giant Food Inc. came under fire when it was revealed that their pharmacies were sending names and addresses of patients to an outside direct-marketing firm. That company then sent out letters to patients who had prescriptions for products such as Merck's Zocor to help remind them to take their medication--and also, of course, drive the sale of refills to the brands. Consumers worried that their pharmacies were letting intimate medical information loose into the hands of marketers. While the retailers maintain no confidentiality was breached, they were stung by the response. Both companies dropped the program.
Despite a sometimes painful education, pharmaceutical companies are unlikely to back off their consumer advertising offensive. And, for now, the risk of a physician backlash, once a huge potential obstacle, seems less likely. "I don't like it," says Dr. Donald Miller, a rheumatologist in Bryn Mawr, Pa. "But it hasn't created a major headache for me." Until they master the world of consumer branding, drugmakers may find that they are the ones suffering the real headaches.
Before it's here, it's on the Bloomberg Terminal.
LEARN MORE