A Flood Of Part Time Workers...Has Some Pols Screaming Foul
Katharine A. Schmidt
When an unexpected tour bus pulls up to Ernst Fischer's Hirsch Hotel & Restaurant next to a 13th century castle outside Tubingen, he has no trouble handling the unexpected business. Fischer simply picks up the telephone and calls in Brigitte Buri, a local mother of two who helps out on such occasions and in the crush of springtime first communion and confirmation parties. Other part-timers come in to take reservations or keep drink orders filled. Says Fischer, vice-president of the German Hotel & Restaurant Assn.: "We can't afford to hire someone with longer hours when we might need them only once every two weeks."
Fischer's part-timers--and an additional 5.6 million in Germany--occupy a fast-expanding niche in a stodgy economy and are causing a political ruckus. From 1992 to 1997, their numbers increased a total of 26.5%, according to a study done for the Labor & Social Affairs Ministry. This growth shows no signs of slowing down amid joblessness for full-timers at record levels since reunification.
The catch, of course, is that these 5.6 million low-wage part-timers receive no benefits such as health and pension insurance. (An additional 3.6 million part-timers working longer hours do receive them.) With only insurance for work-related accidents to pay, employers like Fischer save most of the 42% of labor costs usually paid out for social insurance. The uninsured part-timers can in most cases legally earn only up to $344 a month in western Germany and $289 in the east. In exchange, they usually take home everything they earn.
Besides hotels, restaurant owners, and households, the biggest employers of low-cost part-timers are in wholesale and retail trade. From 1992 to 1997, uninsured part-time positions in these businesses jumped from 566,000 to 840,000.
Christel Klocke-Bejaoui, 34, has experienced the transformation firsthand in her few months at a neighborhood shoe shop in Stuttgart. Until last year, she says, two full-timers and the store manager worked at the moderately priced shop. The second of the full-timers to retire was working her last day when Klocke-Bejaoui, a kindergarten teacher on maternity leave, started her job last November. Since then, the manager has run the store with just five part-timers. "It's good to get out of the house a bit," says Klocke-Bejaoui, "and I like earning some extra cash, even if it's not a whole lot."
TWIN SONS. Like Klocke-Bejaoui, most uninsured part-timers are women. Men who take uninsured part-time jobs are more likely also to hold a full-time job. Jurgen Rauscher, 43, a toolmaker at a Mercedes-Benz plant outside Stuttgart, held a part-time job at a metal-working shop for five years while supporting a wife and twin sons. Says Rauscher: "If you're the sole earner in a four-member family and you want to buy a home, you have to bring in some extra money. There's just no way around it."
Unions and many politicians, however--even some in the ruling Christian Democratic Union--aren't too happy about the boom in part-timers. They argue that employers and part-timers aren't paying their share of social-welfare costs, that full-time jobs are being split up, and that women in particular are being shunted into a low-wage ghetto.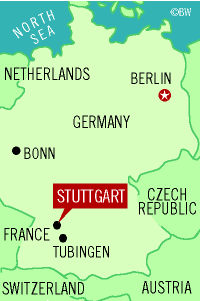 The Social Democrats plan to introduce a bill in Parliament this spring that would require social-welfare payments for jobs paying upwards of $111 a month. Their candidate for chancellor, Gerhard Schroder, announced days after his nomination on Mar. 1 that he would seek to make it illegal to convert full-time jobs at major companies into uninsured ones. Such proposals probably won't get anywhere now but could gain momentum after the federal election in September.
But even as they applaud the idea of cracking down on the wholesale conversion of full-time jobs into part-time positions, hotelier Fischer and toolmaker Rauscher hope the politicians won't cut back too far on the wiggle room offered by uninsured jobs. Otherwise, Fischer may not be able to keep the steins moving fast enough in his Biergarten, and Rauscher's work buddies may have to postpone their home-buying plans. Multiplied throughout the country, that could leave more than a few waitresses and home-builders out of a job.