What's In A Name On The Net?
By
On fire. That's what Internet stocks have been. One that's not yet widely known and not yet too visible--and making money: Network Solutions (NSOL), whose stock has zoomed from 12 a share in late December to nearly 24 on Mar. 11. It's the leading provider of Internet "domain" registration services worldwide. In other words, Network Solutions is the exclusive registrar--empowered by its agreement with the National Science Foundation--for all "top-level" .com domain names as well as the "second-level" names that are within the .net, .org, and .edu categories.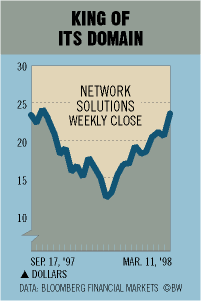 "The .com top-level domain represents more than 90% of the company's registrations," says James Pettit of Hambrecht & Quist. So Network Solutions "is at the core of the Internet, creating unique addresses from which to communicate and conduct commerce," explains Pettit. Although the government may open the field to competitors next year, he believes that "Network Solutions will remain the key player in the domain-name space business."
The customer pays a two-year registration fee of $100 to Network Solutions and $50 annually thereafter. The company has signed pacts with 40 Internet access providers, including MCI, AOL/PrimeHost, UUNet, Sprint, and GTE (BBN). The company also signed strategic marketing pacts with such companies as Dun & Bradstreet, Microsoft, and Verisign. Pettit figures Network Solutions, which has $5 a share in cash, or $80 million, will earn 51 cents on revenues of $72.7 million in 1998, and 85 cents on sales of $110.6 million.