Ukraine: Under The Gun In Kiev
by
American Secretary of State Madeleine K. Albright carried a blunt warning on a Mar. 6 visit to Kiev: Unless the pace of economic reform picks up, the U.S. could halve Ukraine's $225 million aid package this year. That's a troubling prospect--but hardly the only one looming on Ukraine's horizon.
While most of its neighbors in the former Soviet bloc are poised for growth, Ukraine's darkest days may lie ahead. After contracting by two-thirds since 1991, the economy shrank another 0.8% in January, with a sharp 11.8% decline in industrial production. Practically none of Ukraine's rich agricultural and industrial base has been privatized. Foreign direct investment is $39 per capita, one of the lowest figures in the region. And lack of privatization revenue contributes to a mounting budgetary crisis.
Aid donors are turning up the heat. The International Monetary Fund says it won't release a long-awaited $2.5 billion loan without government action on fiscal and monetary reforms. The U.S. is urging relief from a corrupt regulatory regime that discourages investment and pushes some 50% of economic activity onto the black market.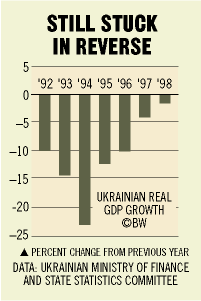 Government borrowing is another time bomb. For the past two years, Treasury bill proceeds helped cover budget deficits. But foreign investors fled after last fall's Asian meltdown. Now, with an estimated $3.5 billion in redemptions due this year, Kiev is issuing Eurobonds. But to attract investors, it is forced to offer yields of 15% to 16%, far above the rates paid by most emerging-market borrowers. With parliamentary elections on Mar. 29, analysts fear the government could dig itself in even deeper by using Eurobond proceeds to start paying off more than $2 billion in overdue wages and pensions.
Ukraine's currency, the hryvna, can't take much more of this. Last fall, the government propped it up by raising interest rates and dipping into reserves. But reserves are now below $2 billion, and devaluation could soon be added to the list of Ukraine's woes.
Before it's here, it's on the Bloomberg Terminal.
LEARN MORE